Friday 8th May marks the 75th Anniversary of VE Day. This was a huge day in history and we think it is important you understand why. Please watch this clip explaining about VE Day:
Now complete one of these challenges:
The two VE Day 2Dos set on Purple Mash – but they will only be there on Friday!
Create some bunting to decorate your house.
Discuss with someone in your house why you think it is important to still remember VE Day.
Here's some bunting designed by one family: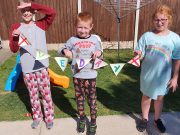 Well done to those who completed the VE Day Purple Mash activities. Here's work from Imogen, Ashton and Jacob:
ggg