Covid-19 Support
School will be closed  to all pupils except for those who are the children of Critical Workers (if children cannot be kept at home) and Vulnerable children. 
Remote education will be provided for all other children (See Remote Education Provision section).
Laptops can be provided for a limited number of children who do not have access at home.
Paper work packs can be provided on request.
If a child develops symptoms please book a PCR test and do not attend school.
Self isolate if any household member develops symptoms.
Self isolate if you or your child have been a close contact with anyone who tests positive or if you have been contacted by NHS Test and Trace.
We have been made aware of a number of companies trying to help parents out by giving extra data allowance. Please use this table to see if you your mobile network is giving any additional offers. If you can see something you would like to apply for please contact the school office.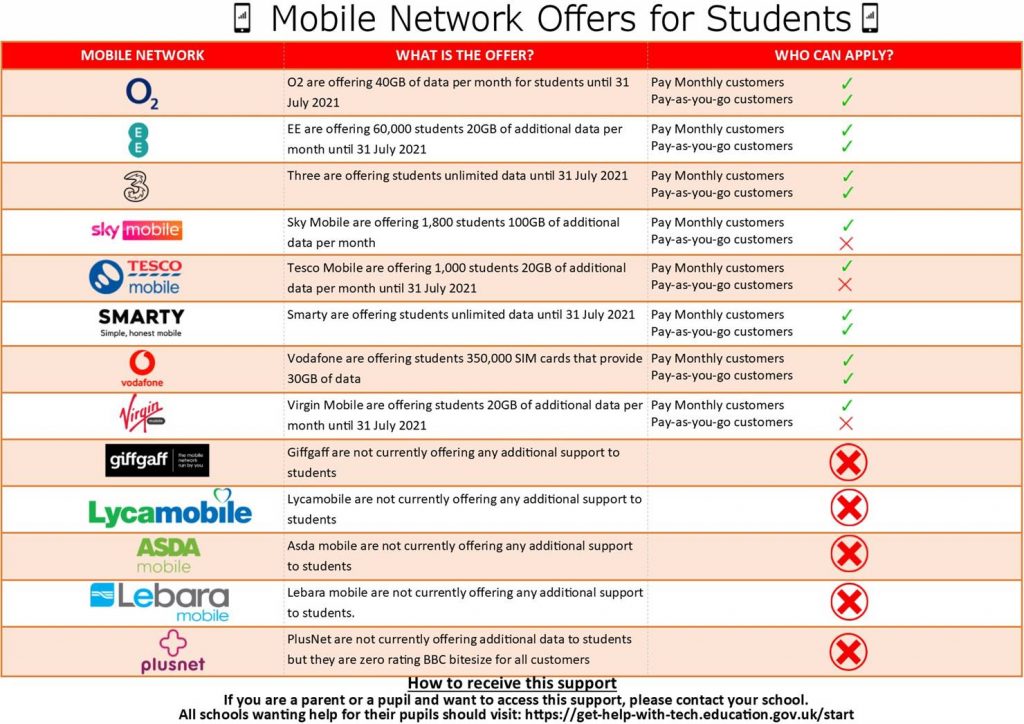 Sunday 3rd January
Apologies for the very late text/ email but we have been waiting for Government and Local Authority guidance. You will be aware of the growing number of COVID cases and the new variant being transmitted by children. School staff have been advised not to teach full classes at this time and many are taking that advice. Therefore we need to postpone the return of pupils to school until we have a plan in place to teach the children safely. School will not be open to pupils tomorrow (Monday). We will keep you informed of plans for the rest of the week ASAP. Pupils will be provided with online work. We have some laptops available to loan for those who do not have access. Please call in to school to collect them as necessary.
We are sorry for the inconvenience this will cause you. Please encourage your child to engage with the online learning.