Foundation Stage 1
Click on the link below to access ideas for activities each week:
F1 learning from home activities 1.3.21
F1 learning from home activities 22.2.21
F1 learning from home activities 8.2.21
F1 learning from home activities 1.2.21
F1 learning from home activities 25.1.21
F1 learning from home activities 18.1.21
F1 learning from home activities 11.1.21
Twinkl Resources
Twinkl is a website containing thousands of teaching and learning resources. The website is offering a FREE membership for ALL PARENTS. Please click on the link to sign up and make use of this fabulous resource:
https://www.twinkl.co.uk/sign-up
Classroom Secrets Resources
Free resource packs for each year group to help your children learn from home.
https://classroomsecrets.co.uk/free-home-learning-packs/
Hungry Little Minds
Has a wealth of ideas for simple, fun activities that you and your child can do together.  There are sections for  2-3 year olds and 3-5 year olds.
https://hungrylittleminds.campaign.gov.uk/
Additional 'Hungry Little Minds' Resources:
Home Learning Fun Building Self-Esteem
Health and Self Care
Whilst our regular daily lives are disrupted, it is often the little, but important things which can get forgotten. Good oral health habits are especially important at the moment given that we cannot currently visit our dental professional.
Bright Smiles, Bright Futures Programme have put together some resources for primary school children to help support their parents and give the children fun things to do.
Click here for a downloadable brushing chart to ensure good oral health habits, including fun games and some interesting facts about oral health.
For more activities and resources follow the link below:
https://www.colgate.com/en-gb/bright-smiles-bright-futures/program-materials/for-teachers
To Develop Literacy Skills
Sing nursery rhymes.
Read stories and talk about them (They especially enjoy traditional tales eg The Three Little Pigs.)
Draw a picture of everyone in their family.
Write their name.
Listen to Jolly Phonics songs on Youtube. There is a song for each letter of the alphabet.
Look at the website 'Phonics Play' and play the phase 1 games.
The Summer Reading Challenge
It's that time of the year again… The Summer Reading Challenge. This time online! Click here to find out more information, or alternatively visit their website:
https://summerreadingchallenge.org.uk/
We hope to see lots of you getting involved. Good Luck!
Tops Tips from Education Endowment Foundation: Shared reading is a great way to develop children's language and communication and to boost their reading skills. Regular reading routines can offer lots of opportunities for learning during school closures.
Top tips to support reading at home
Reading opportunities are everywhere. Follow the TRUST ideas to talk about anything your child enjoys reading.
Learning opportunities are everywhere. You can make anything a learning experience for your child, just follow the TRUST ideas.
Talk for Writing:  Free Talk for Writing Home-school units. The units are age-related and all include a model text which is also available as a streamed audio recording.
Talk for Writing- Reception-Unit
Teach your Monsters to Read: Create a monster and take it on an adventure through a magical world. Travel to exciting places, meet fun characters, play games and win prizes as your monster learns the first steps of reading.  The computer version is free.
https://www.teachyourmonstertoread.com/
The Cbeebies Storytime app aims to make reading fun, with playful and imaginative stories designed to help support early years reading. Every story is brought to life with magical things to touch, swipe and play with. There are also questions to help develop comprehension skills, so you and your children can enjoy reading, playing and learning together. For instructions to download the app visit their website below:
https://www.bbc.co.uk/cbeebies/grownups/cbeebies-storytime-app
Julia Donaldson will share one of her stories every Thursday. The first story she shared was "A Squash and a Squeeze", which she sang ( with puppets!!) and then the illustrator, Axel Scheffler, completed a drawing of the characters. Check out her Facebook page at the link below:
https://www.facebook.com/watch/?v=3134033283326152
Storytime 4 Hometime James Mayhew, a children's author and illustrator, is reading a story as he illustrates the story, drawing upside down! A lovely, soothing end to the day at 3pm.  Click here to visit his YouTube channel.
Audible (by Amazon) are instantly streaming  an incredible collection of stories, including titles across six different languages, that will help children to continue dreaming, learning, and just being kids. Click here to read your favourite stories.
Stay at Home Storytime: Oliver Jeffers, author and illustrator, is reading one of his books every weekday on Instagram and talking about some of the things that went into making it. https://www.oliverjeffers.com/books#/abookaday/
National Literacy Trust  Split up by age group, you will find ideas and guidance for simple activities that will engage children at home. You'll be able to access free reading and writing resources, audiobooks, videos, competitions and reading challenges   Visit their website below:
https://literacytrust.org.uk/family-zone/
Nosy Crow Stories: lots of activities, resources, free Nosy Crow books and other content which they hope will help keep families happy
https://nosycrow.com/free-resources
Nosy Crow Stories Aloud: They are also sharing a free picture every day, that you can read as they read it aloud.  https://nosycrow.com/nosy-crow-storytime/
Toppsta create a daily schedule of bookish ideas, which can be found here.
Booktrust:  Lots of lovely interactive books to read online or watch with signing. There are classic children's stories that we think you and your family will love, including Hairy Maclary from Donaldson's Dairy by Lynley Dodd to Owl Babies by Martin Waddell and Patrick Benson, along with newer favourites such as Chris Haughton's Oh No, George! and Everybunny Dance! by Ellie Sandall
https://www.booktrust.org.uk/books-and-reading/have-some-fun/storybooks-and-games/
The Home Time page links to lots of activities where you can play games, win prizes, test your knowledge in book-themed quizzes, or even learn how to draw some of your favourite characters
https://www.booktrust.org.uk/hometime
Storyline Online streams videos featuring celebrated actors reading children's books alongside creatively produced illustrations. Why not listen to a story being read?
https://www.storylineonline.net/
Books for Topics: Need help to find suitable books to buy for your child? Follow the link below:
https://www.booksfortopics.com/homebooks
Oxford Owl: an eBook library, containing over 100 free eBooks. The eBooks have been developed for children aged 3 –11 https://home.oxfordowl.co.uk/books/free-ebooks/
Click on the links below to access three short stories for you to share with your children at home. These stories have been kindly donated by the author during this difficult time- Enjoy!
The Insideouters No 1 Fluff has a Birthday Party
The Insideouters No 4 The Insideouters Take a Holiday
The Insideouters No 9 – Peter The Penguin Saves The Day
Below is a chart of reading ideas to complete at home:
Make outdoor learning part of your regular routine. Below is a chart jam packed with ideas for taking literacy outside. Click on the image to enlarge the chart: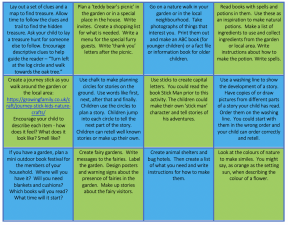 To Develop Mathematics Skills
Click the links below to find a selection of creative Maths activities:
EYFS Creative At Home Resources
Go on a number hunt at home.
Go on a 2D shape hunt at home.
Line up and count cuddly toys or toy cars.
Count how many stairs you have at home.
Listen to Super Simple Number songs on youtube.
Look at the website called 'Crickweb' and play the games for Early Years.
Cbeebies- 'Everything parents need to know about Numeracy development from 0-6 with fun activities you can build into everyday life and play'
https://www.bbc.co.uk/cbeebies/grownups/help-your-child-with-maths
To Develop Physical Development skills
Throw and catch a ball.
Hop scotch.
Run, skip, hop and star jump and balance on one foot.
Try Children's Cosmic Yoga on YouTube.
Use scissors to cut out pictures.
Blow bubbles and try and pop them.
Play pass the balloon to each other.
To Develop PSED Skills
Play dominoes, snap, pairs, and any game that involves taking turns eg Pop up Pirate.
Set the table together/ help wash up the dishes.
To Develop Creative Development Skills
Retell/ act out a story eg Little Red Riding Hood/ The Gingerbread man etc
Paint a picture.
Make a collage pictures using different materials.
Sing favourite songs.
Dance to your favourite music.
To Develop Understanding the World Skills
Bake a cake and talk about all the changes that happen when mixing the ingredients.
Explore which objects float and which objects sink at bath time.
Use pots, pans and spoons for drums and make some music.
Make a musical instrument eg making a shaker using a plastic bottle and some rice or pasta.
Look for signs of Spring outside.
Make an Easter card.
Look on the Cbeebies website for 'Let's Celebrate' (Preparing for and celebrating Easter and find out all about Easter.
Fancy doing something a little different?
Canal and River Trust
Canal and River Trust have got lots of ideas and activities to help you and your family have fun in the outdoors this summer by their canals and rivers. Canals and rivers are great places to get active and enjoy a healthier life.
Below are some activities included on their website:
Visit their website to see the full list of activities:
https://canalrivertrust.org.uk/explorers/children/lets-go-outdoors
The Royal Albert Hall have some great activity ideas:
A special storytime event with action songs and stories for those under 5. Click here for more information.
A DIY puppet theatre – use the PDF on screen or print out to make it 3D and create your own puppets to put on a show. Puppet theatre and Puppets
Meet the Orchestra – be shown video clips and talked round a number of the instruments in the Royal Albert Hall's orchestra. New clips added regularly. Click here to find out more! Can you make an instrument of your own?
They are also streaming live events so watch on Twitter for further information.
Why don't you have a go at entering 'The Secret Garden Competition'? Follow the link below for more details:
schoolgardening.rhs.org.uk/Competitions/The-Secret-Garden
or click here to open the competition entry form.
Or visit 'The Great Indoors' website, which includes a bank of inspired indoor activity ideas to keep your children learning new skills and having fun all in 'The Great Indoors'.
Please click here for more information.
Home School Safari is an online, free to access, learning resource hub from Learning & Discovery at Knowsley Safari. Click here for free access.
Each week the following website will upload 5 new species, one for each working day, each with a downloadable image and a fact about that day's species so you can learn about the wonderful creatures we share this planet with. Each species features a reference illustration and a downloadable colouring image which can either be printed out or edited on your computer or tablet.
https://www.benrotheryillustrator.co.uk/collections/free-colouring-images
Have a little look at the following photographs for some exciting Forest School ideas:
Kindness Activities:
We feel kindness is more important than ever at the moment, so your job is to carry out daily acts of kindness and record these on your calendar. It would be lovely to see some pictures of your calendars. Just simply email them to schooloffice@merseypark.wirral.sch.uk and these can then be forwarded to your class teacher. You may even see your kindness calendar on the school website or our Twitter page!
Below are some resources and ideas to help you:
Red Cross Resources:
Free and engaging online resources during the coronavirus lockdown, to explore and promote the value of kindness.
The resources will:
encourage simple acts of kindness
build resilience
connect the whole family and the community
cover topics including first aid, preparedness, wellbeing and empathy.
Click here to access these free resources.
Make a garden competition: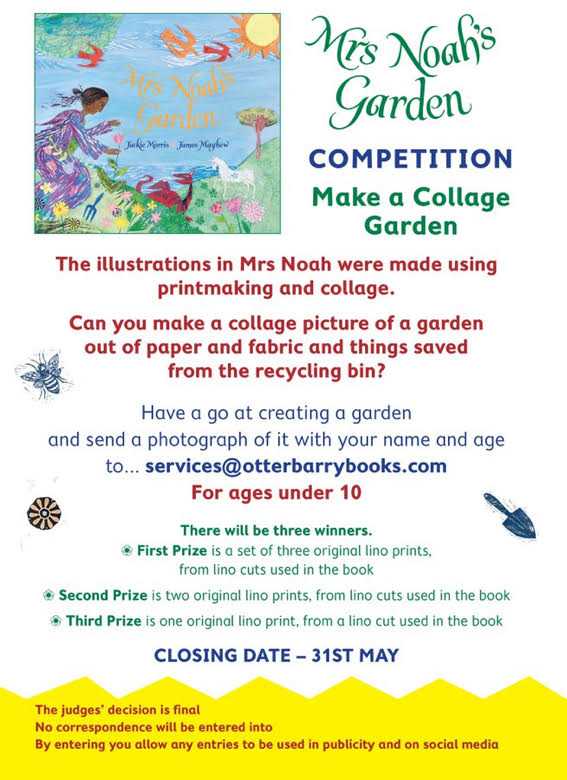 Don't forget to take photos of your activities and upload them on to Tapestry for us to see.
Many Thanks- the F1 Team
All your home/school books will be changed on a weekly basis. Please make sure you are returning them as they are a crucial part of communication between home and school.
Story Starters
We are proud to be involved with Story Starters.
Story Starters is a new programme that has been made possible by players of the People's Postcode Lottery. It will make a life-changing difference to the lives of 1,800 nursery children through the support of over 500 volunteers by 2019, ensuring that they start primary school ready to read.
Trained Story Starter volunteers provide caring and fun one-to-one support to children in our Foundation 1, aiding their language development and introducing them to the magic of stories.  Along with the trained, caring support provided by Story Starter volunteers, each child receives high-quality resources from Dolly Parton's Imagination Library so that they can enjoy the magic of stories at home.