Year 1
Year 1 activities to complete at home:
Well done everyone who has logged onto Bug Club and Purple Mash and completed the set tasks. We are really impressed that you are working hard at home. Keep checking the website and of course Mersey Park Twitter to see what Mrs Gopsill, Miss Williams and Mrs Eccles are up to. We will upload a document to the website on a weekly basis of activities for you to try at home. They will include a wide range of tasks.
Click on the link below to access the activities page:
Weekly phonics plans will be uploaded here for children to follow at home. It is the same structure we use in school so children might be familiar with it. They start by practising sounds they already know. Then they learn a new sound (digraph- two letters that make a sound). Next read words that have that sound in using sound buttons. After that they write a sentence that used that digraph. Finally there is a little memory game. Have a go at home, see how you get on!
Click on the links below to access the phonics plans:
Phonics Challenge:
Year 1 can you try and write one word that has each of these sounds in. If you complete that can you put each word in a sentence. For example: for the digraph 'ee', it could be 'The big buzzing bee is flying in the bright sky.' Have a go at home.
BBC Bitesize Daily Lessons
There are 3 new lessons every weekday aimed at your year group, including daily lessons in English and Maths and a third lesson on Science, History, Geography, Music or something else.  The lessons have been created by teachers and educational experts and include videos, animations, practice activities, quizzes and games.
Check out today's lessons by clicking here.
Oak National Academy
Over the next few weeks you might see us recommend particular lessons on Twitter for you to look at. But in case you have some spare time and you'd like to find some activities yourself here is a great site with many lessons that you will enjoy taking part in. They have quizzes, videos and activities for each lesson.
Twinkl Resources
Twinkl is a website containing thousands of teaching and learning resources. The website is offering a FREE membership for ALL PARENTS. Please click on the link to sign up and make use of this fabulous resource:
https://www.twinkl.co.uk/sign-up
Classroom Secrets Resources
Free resource packs for each year group to help your children learn from home.
https://classroomsecrets.co.uk/free-home-learning-packs/
Phonics
Read Write Ink are streaming three, short Speed Sounds lessons for children to watch at home every weekday on their YouTube channel. Each lesson is ten minutes long and available for 24 hours.
Click the following link for more information:
https://www.ruthmiskin.com/en/find-out-more/help-during-school-closure/
Please use the following links for extra support with teaching phonics at home:
https://www.teachyourmonstertoread.com/digital-flashcards
https://www.phonicsplay.co.uk/
https://www.topmarks.co.uk/english-games/5-7-years/letters-and-sounds
Below are two charts of spelling/phonics ideas that can be completed at home:
Writing
Talk for Writing:  Free Talk for Writing Home-school units. The units are age-related and all include a model text which is also available as a streamed audio recording.
Radioblogging.net broadcast a live show every morning at 9.30am.  It is fun and interactive with a new educational task every day.  Just listen and blog –  they might read your writing out on their live show.
Pobble 365 displays a new, amazing picture every day.  If you click on the down arrow on the picture there are ideas for writing tasks: Story Starter, Sentence challenge, Question Time, Sick Sentences and Perfect Picture (a drawing activity).
http://www.pobble365.com
Below is a chart of writing ideas to complete at home. Click on the image to enlarge the chart: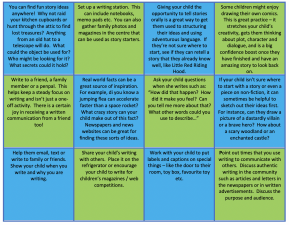 Make outdoor learning part of your regular routine. Below is a chart jam packed with ideas for taking literacy outside. Click on the image to enlarge the chart: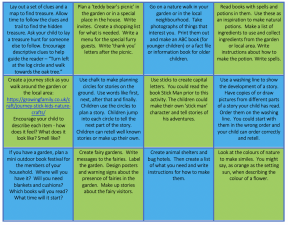 Here are some examples of writing activities and games your child could complete at home:
https://classroommagazines.scholastic.com/support/learnathome/grades-1-2.html
https://writers.scholastic.co.uk/free-resources
https://www.bbc.co.uk/bitesize/subjects/zgkw2hv
https://www.topmarks.co.uk/english-games/5-7-years/words-and-spelling
https://www.educationquizzes.com/ks1/english/
Reading
The Summer Reading Challenge
It's that time of the year again… The Summer Reading Challenge. This time online! Click here to find out more information, or alternatively visit their website:
https://summerreadingchallenge.org.uk/
We hope to see lots of you getting involved. Good Luck!
Your child has been given their Bug Club username and password.This is a resource containing age appropriate books for your child to read at home. The books will be updated regularly by the class teacher (school code- ga6a).
https://www.activelearnprimary.co.uk/login.php?c=0
Teach your Monsters to Read : Create a monster and take it on an adventure through a magical world. Travel to exciting places, meet fun characters, play games and win prizes as your monster learns the first steps of reading.  The computer version is free.
https://www.teachyourmonstertoread.com/
Julia Donaldson will share one of her stories every Thursday. The first story she shared was "A Squash and a Squeeze", which she sang ( with puppets!!) and then the illustrator, Axel Scheffler, completed a drawing of the characters. Check out her Facebook page at the link below:
https://www.facebook.com/watch/?v=3134033283326152
Storytime 4 Hometime James Mayhew, a children's author and illustrator, is reading a story as he illustrates the story, drawing upside down! A lovely, soothing end to the day at 3pm.  Click here to visit his YouTube channel.
Audible (by Amazon) are instantly streaming  an incredible collection of stories, including titles across six different languages, that will help children to continue dreaming, learning, and just being kids. Click here to read your favourite stories.
Stay at Home Storytime: Oliver Jeffers, author and illustrator, is reading one of his books every weekday on Instagram and talking about some of the things that went into making it. https://www.oliverjeffers.com/books#/abookaday/
National Literacy Trust  Split up by age group, you will find ideas and guidance for simple activities that will engage children at home. You'll be able to access free reading and writing resources, audiobooks, videos, competitions and reading challenges   Visit their website below:
https://literacytrust.org.uk/family-zone/
Authorfy For a daily dose of creativity and fun, check out the '10 Minute Challenges', which are set by bestselling authors and illustrators – a new challenge is added every single day! For more author videos and free resources, check out the 'classroom' page.
https://authorfy.com/10minutechallenges/
Steve Antony, award-winning writer and illustrator of many picture books, is delivering a masterclass every Monday – Wednesday in creating your very own universe of stories and characters. https://www.youtube.com/c/SteveAntonyVideo
Nosy Crow Stories: lots of activities, resources, free Nosy Crow books and other content which they hope will help keep families happy
https://nosycrow.com/free-resources
Nosy Crow Stories Aloud: They are also sharing a free picture every day, that you can read as they read it aloud.  https://nosycrow.com/nosy-crow-storytime/
Toppsta create a daily schedule of bookish ideas, which can be found here.
Elevenses with The World of David Walliams: Every day at 11.00am you can listen to one of David Walliams' World's Worst Children stories.  Enjoy 20 minutes of pure fun!
https://www.worldofdavidwalliams.com/elevenses/
Booktrust:  Lots of lovely interactive books to read online or watch with signing. There are classic children's stories that we think you and your family will love, including Hairy Maclary from Donaldson's Dairy by Lynley Dodd to Owl Babies by Martin Waddell and Patrick Benson, along with newer favourites such as Chris Haughton's Oh No, George! and Everybunny Dance! by Ellie Sandall
https://www.booktrust.org.uk/books-and-reading/have-some-fun/storybooks-and-games/
The Home Time page links to lots of activities where you can play games, win prizes, test your knowledge in book-themed quizzes, or even learn how to draw some of your favourite characters
https://www.booktrust.org.uk/hometime
Storyline Online streams videos featuring celebrated actors reading children's books alongside creatively produced illustrations. Why not listen to a story being read?
https://www.storylineonline.net/
Books for Topics: Need help to find suitable books to buy for your child? Follow the link below:
https://www.booksfortopics.com/homebooks
Oxford Owl: an eBook library, containing over 100 free eBooks. The eBooks have been developed for children aged 3 – 11
https://home.oxfordowl.co.uk/books/free-ebooks/
https://home.oxfordowl.co.uk/blog/learning-at-home-learning-to-read/
Tops Tips from Education Endowment Foundation: Shared reading is a great way to develop children's language and communication and to boost their reading skills. Regular reading routines can offer lots of opportunities for learning during school closures.
Top tips to support reading at home
Reading opportunities are everywhere. Follow the TRUST ideas to talk about anything your child enjoys reading.
Learning opportunities are everywhere. You can make anything a learning experience for your child, just follow the TRUST ideas.
Click on the links below to access three short stories for you to share with your children at home. These stories have been kindly donated by the author during this difficult time- Enjoy!
The Insideouters No 1 Fluff has a Birthday Party
The Insideouters No 4 The Insideouters Take a Holiday
The Insideouters No 9 – Peter The Penguin Saves The Day
Below is a chart of reading ideas to complete at home:
Drama
Drama helps children to develop acting, communication skills, confidence, verbal reasoning, empathy, storytelling, literacy, presentation skills, focus and imagination.
Below is a chart of drama ideas to complete at home (click to enlarge):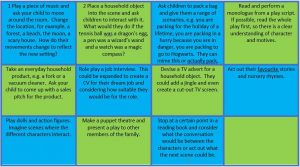 Maths
White Rose Maths
As you will be probably aware we are using the scheme 'White Rose' to support our teaching of Maths in school. The website is organising online training videos and activities for you to use at home. This is going to be an EXTREMELY valuable resource to use at home with your child. Please visit the following link to access the materials to support your child's home learning.
https://whiterosemaths.com/homelearning/
At 10.00am every week day there will a new video for each year group.
Watch the video
Try the questions
Tweet your solution or ask questions
Click here to see 'White Rose Problem of the Day'. (KS1 – page 1 of problems, KS2 – page 2 of problems).
Times Tables Rock Stars & Numbots
All children should have been given their username and password for the following links. Please use their login details to access these maths tools at home. If you do not know your child's username and password then don't worry, the websites are offering free access – just sign up!
https://ttrockstars.com/home
https://numbots.com/
The Maths Factor – The course contains over 1,000 maths sessions, organised into topics. Carol Vorderman teaches each topic through a fun and lively video, which is coupled with practice sessions to build your child's knowledge and confidence in maths.
https://www.themathsfactor.com/
Creative Maths
Click the links below to find a selection of creative Maths activities:
Year 1 Creative At Home Resources from First4Maths
Maths on Toast:
Below are additional links to other maths resources and activities for your child to complete at home:
https://www.topmarks.co.uk/maths-games/5-7-years/counting
https://www.oxfordowl.co.uk/for-home/kids-activities/fun-maths-games-and-activities/
https://home.oxfordowl.co.uk/blog/teaching-maths-at-home/
https://home.oxfordowl.co.uk/maths/numicon-guide-for-parents/
https://www.bbc.co.uk/cbeebies/shows/numberblocks
http://www.crickweb.co.uk/ks1numeracy.html
http://www.ictgames.com/mobilePage/
Science
15 AWESOME SCIENCE EXPERIMENTS FOR OLDER KIDS (AGE 6+):
https://lemonlimeadventures.com/awesome-science-experiments-for-older-kids/
Indoor Science activities from 'British Science Association':
https://www.britishscienceassociation.org/Handlers/Download.ashx?IDMF=98479b73-453a-4390-b367-c8613e37c578
Outdoor Science activities from 'British Science Association':
https://www.britishscienceassociation.org/Handlers/Download.ashx?IDMF=fd30d8de-fc23-45d8-93f1-d2eead8f13bf
Wildlife Watch UK – If you care about nature and love wildlife, Wildlife Watch is the club for you!
https://www.wildlifewatch.org.uk/
Edinburgh Zoo Webcam – Watch the pandas, penguins, tigers or koalas and the zookeepers who look after them.  Imagine you are a zookeeper and research what you would need to do to look after each animal.
https://www.edinburghzoo.org.uk/webcams/panda-cam/
Here are some more links to science activities and games your child could complete at home:
https://www.bbc.co.uk/bitesize/subjects/z6svr82
https://www.educationquizzes.com/ks1/science/
History
Below are links to history resources for your children to use at home:
https://www.bbc.co.uk/cbbc/shows/horrible-histories
https://www.topmarks.co.uk/Search.aspx?Subject=13&AgeGroup=2
Geography
Below are links to Geography resources for your children to use at home:
https://www.natgeokids.com/uk/category/kids-club/
http://www.sheppardsoftware.com/Geography.htm
http://www.crickweb.co.uk/ks1geography.html
https://www.educationquizzes.com/ks1/geography/
Online Safety and Computing
Be Internet Legends
This website provides online activities for the whole family to help children be safe and confident explorers of the online world.  Interland is an interactive game that consists of completing online challenges in four zones (https://beinternetlegends.withgoogle.com/en_uk):
Kind Kingdom – Respect each other
Tower of Treasure – Secure your secrets
Reality River – Check it's for real
Mindful Mountain – Think before you share
Click here for Online Safety activities for the whole family at home.
Below are some more Online Safety resources:
Think U Know activity pack for children aged 5-7
https://www.saferinternet.org.uk/advice-centre/young-people/resources-3-11s
Computing
Please download Bee-Bot in the app store. This is a free game that allows children to practise moving Bee-Bot around a maze.
Learn to code with the following link:
The British Computing Society have created these enjoyable activities, designed by teaching professionals for families to do at home with their children. There are Learning together activities,  Mini missions and  Interactive learning games.
https://www.barefootcomputing.org/homelearning
Art and Design
Mo Willems (author and illustrator) has announced that he will be teaching drawing every weekday on YouTube to kids who are now at home. Mo will be having sessions called 'Lunch Doodles' where he will occupy the little ones by doodling together with them. Click the following link to visit his YouTube channel:
https://www.youtube.com/playlist?list=PL14hRqd0PELGbKihHuTqx_pbvCLqGbOkF
We have found some brilliant drawing activities online, and have therefore put together the following gallery. We hope you have fun! I think the teachers will enjoy having a go at some of these too.
P4C – Philosophy for Children
There will lots of resources available each week (for every year group) to get kids thinking and talking with their parents. The resources will change every Friday. There will be many games, questions, stories and riddles. Solutions to riddles will follow the next week. Please click the link below to access these free P4C resources:
https://www.thephilosophyman.com/brainsqueezers
Games for Listening and Speaking
Ideas for reading a picture book
P4C The King has Donkey Ears
Read this retelling of a Greek myth about King Midas. Can you come up with a philosophical question to discuss with an adult at home?  Perhaps something to do with keeping secrets.
Music
We thought as we can't do our Easter service in school you might like to look at these free resources and practice a new Easter song:
https://www.popuk.org/store/heisalive
The Royal Albert Hall have some great activity ideas:
A DIY puppet theatre – use the PDF on screen or print out to make it 3D and create your own puppets to put on a show. Puppet theatre and Puppets
Meet the Orchestra – be shown video clips and talked round a number of the instruments in the Royal Albert Hall's orchestra. New clips added regularly. Click here to find out more! Can you make an instrument of your own?
They are also streaming live events so watch on Twitter for further information.
Beat Goes On- Body percussion online sessions. Delivered by Ollie Tunmer former STOMP cast member and teacher. Click the link to visit his YouTube channel:
https://www.youtube.com/channel/UC-iOnF1dIM8eagPO05SMnRQ
Below are more links to music resources for your children to use at home:
https://www.fun2think.com/free-online-music-making-for-kids/
https://musiclab.chromeexperiments.com/Experiments
Religious Education
Below are links to R.E. resources for your children to use at home:
https://www.teachingideas.co.uk/subjects/re
https://www.bbc.co.uk/bitesize/subjects/zxnygk7
Spanish
Below are links to Spanish resources for your children to use at home:
https://www.bbc.co.uk/bitesize/subjects/zhyb4wx
Fancy doing something a little different?
Canal and River Trust
Canal and River Trust have got lots of ideas and activities to help you and your family have fun in the outdoors this summer by their canals and rivers. Canals and rivers are great places to get active and enjoy a healthier life.
Below are some activities included on their website:
Visit their website to see the full list of activities:
https://canalrivertrust.org.uk/explorers/children/lets-go-outdoors
The Fiver Challenge
The Fiver from Home project is a fun way for pupils (5-11) to imagine what business they could create with just a £5 note.
During the project pupils will use the workbook to complete activities such as creating a business name and logo, doing remote market research, planning their products/service and finishing with writing and presenting a sales pitch to someone in their house.
Registrations will be open until the 28th of August, so why not use Fiver from Home as a fun project for your children over summer.
Click here to register.
Stripes for 6 is a fun road safety challenge for children and their families. Complete 6 challenges in 6 days for a £6 donation for the 6 kids that are killed or seriously injured every day on roads.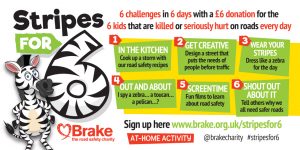 For more about the Stripes for 6 challenge click here.
What could be more empowering than learning a new life-saving skill during lockdown? You might think you need training to be in a classroom or even access to special equipment to learn first aid. Great news! Everything you need is within 'First Aid Champions'.
Click the following link to find out more:
https://firstaidchampions.redcross.org.uk/primary/
Why don't you have a go at entering 'The Secret Garden Competition'? Follow the link below for more details:
schoolgardening.rhs.org.uk/Competitions/The-Secret-Garden
or click here to open the competition entry form.
Or visit 'The Great Indoors' website, which includes a bank of inspired indoor activity ideas to keep your children learning new skills and having fun all in 'The Great Indoors'.
Please click here for more information.
Each week the following website will upload 5 new species, one for each working day, each with a downloadable image and a fact about that day's species so you can learn about the wonderful creatures we share this planet with. Each species features a reference illustration and a downloadable colouring image which can either be printed out or edited on your computer or tablet.
https://www.benrotheryillustrator.co.uk/collections/free-colouring-images
Home School Safari is an online, free to access, learning resource hub from Learning & Discovery at Knowsley Safari. Click here for free access.
Maybe try a bit of cooking at home with your parents? Click the following link for some scrumptious recipes:
https://www.bbcgoodfood.com/recipes/collection/kids-cooking
To support those looking for ways to educate and entertain children aged 5-11 and keep them active, Premier League Primary Stars are making school curriculum-linked resources available for home learning, with no registration.
Click the link below to find out more:
https://plprimarystars.com/home-learning
Have a little look at the following photographs for some exciting Forest School ideas:
Kindness Activities:
We feel kindness is more important than ever at the moment, so your job is to carry out daily acts of kindness and record these on your calendar. It would be lovely to see some pictures of your calendars. Just simply email them to schooloffice@merseypark.wirral.sch.uk and these can then be forwarded to your class teacher. You may even see your kindness calendar on the school website or our Twitter page!
Below are some resources and ideas to help you:
Red Cross Resources:
Free and engaging online resources during the coronavirus lockdown, to explore and promote the value of kindness.
The resources will:
encourage simple acts of kindness
build resilience
connect the whole family and the community
cover topics including first aid, preparedness, wellbeing and empathy.
Click here to access these free resources.
Make a garden competition: