Keeping Active
Keeping Active
In the current Covid-19 lock down it undoubtedly seems harder to fit exercise and movement into your day. However, staying active is more important than ever at the moment, both for your physical and mental health. There are still plenty of ways you can build movement and exercise into your day. Take a look below:
Tokyo 2020 Games: The Tokyo 2020 Games might not be happening this year but we want to make sure we are still celebrating it in some way. We believe the Olympic and Paralympic Values such as respect and determination, are more relevant now than ever before. Take a look at the following link below to get involved:
We also thought a few active indoors challenges would be great right now:
TTT Active Challenge Active Indoors
Challenge yourself! Look at the picture below. Can you improve your score by the end of the week? Good luck!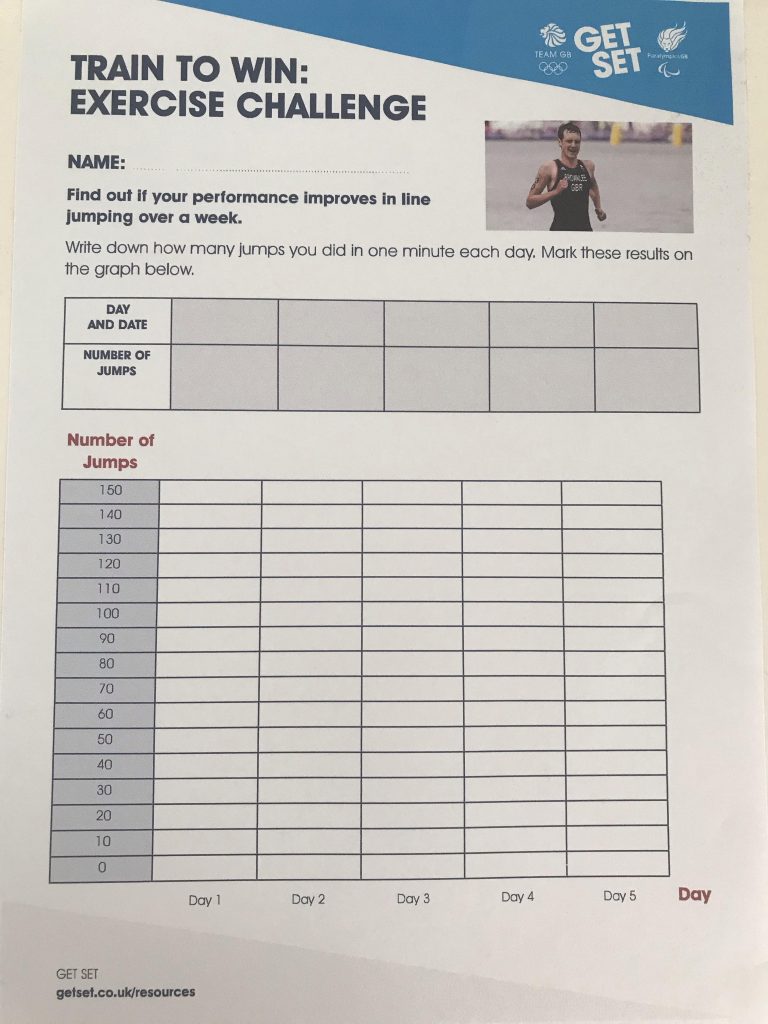 Want to keep active at home? Then click here for free access to home training programmes for all ages.
You can also tune in to 'P.E. with Joe' on his YouTube Channel 'The Body Coach' Monday – Friday 9.00am – 9.30am.
GoNoodle: Good Energy at Home offers free:
• Movement, yoga, and mindfulness videos
• Downloadable curricular activities
• Recommended off-screen home activities
Click here to sign up.
Up for a short physical challenge? Check out these 60 second challenges:
https://www.youthsporttrust.org/60-second-physical-activity-challenges
Here are some activities for you to try, created in partnership with Complete PE, and you can download any of them from the following link. Find a daily activity by following them on their Twitter @YouthSportTrust.
https://www.youthsporttrust.org/pe-home-learning
Yoga and Mindfulness Resources: Social distancing will takes its toll on all of us and it's more important than ever that we look after our mental health. Yoga and Mindfulness are great ways to promote positive mental health and they can be done indoors without any fancy equipment. Yoga and Please click here to access Yoga and Mindfulness resources. These sessions are perfect for families to do together to help everyone stay calm and relaxed through this difficult time.
This leaflet from Striver explains all the different yoga poses and how to do them.  Would be great to post some photos of the family having a go on the A Place to Talk email on the website's homepage!
Yoga Poses
The Family Fit Club produce fun themed workout videos that children and their families can access completely free. The videos are for all the family, regardless of their age or ability and were designed by children and PE teachers to ensure that that all children stay engaged and have fun!
https://www.youtube.com/channel/UCgKRZDCAseDn8JZFXivMeLg
Young Champions has been created to provide children with home practice sessions to develop fitness, motor and sports skills. It will help children of all ages and abilities to play sport to the best of their ability and keep them active and healthy. A parent/carer should follow the link below to sign you up to access the videos:
https://www.amaven.co.uk/young-champions?code=directamaven&utm_source=ZohoCampaigns&utm_campaign=Young+Champions+Direct+Amaven&utm_medium=email
Oti Mabuse, from Strictly Come Dancing, is teaching dance classes inspired by films such as The Greatest Showman, Frozen, Aladdin, Mary Poppins and The Jungle Book. Her videos on YouTube can be found here
Alongside personal trainers 'The Family Fit Club' children have created lots of fun workouts mimicking the movements and actions of all the activities children love to get up to such as gaming, sports, cooking, superhero's, dance, jobs, Olympics, tv and lots more… The workouts have been designed for the entire family, regardless of age or ability and most importantly they are FUN to keep all the family engaged. The videos can be performed at home across all devices with no equipment needed.
Follow the link below: