Parents' Resources
There are resources on this page for parents and carers on the following topics (
see the red sub-headings

):
Using Google Classroom
Behaviour
Support available from the local community
Keeping Safe
Adult Learning
Online Safety
Children Looked After
Special Educational Needs
Pupils with English as an Additional Language
Anxiety due to the Coronovirus Pandemic
Self Help
Google Classroom Support
Click the links below for support and advice on how to access work on Google Classrooms.
https://content.schoolinsites.com/api/documents/88c37ea3caf94d3faa5c6ce0e6117469.pdf
https://docs.google.com/file/d/1g-0F_xa9WSocHxHz8aJylaFnj-XQVNN8/edit?filetype=mspresentation
Below is a short video to help you get started on Google Classrooms.
Behaviour Support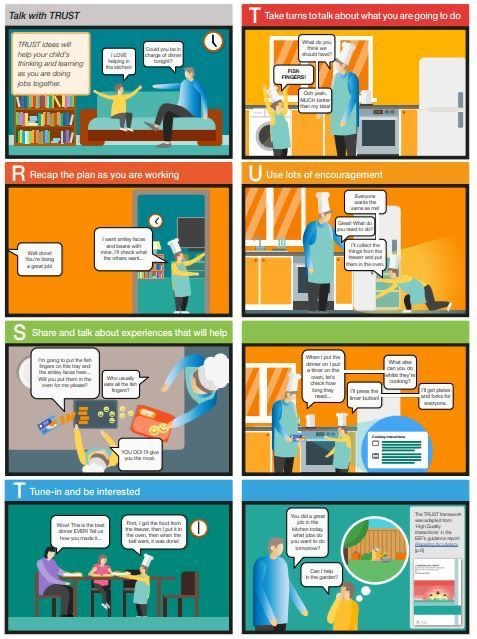 Building a Home Learning Routine With Your Child
Some easy steps you can take to build a great home learning routine with your child:
A video to help discussions with your child
A useful checklist to help them plan their new routines at home
King's College London, South London and Maudsley NHS Foundation Trust and Maudsley Charity have produced 'Families Under Pressure', a series of 8 parenting tips to help families struggling under the Coronavirus pandemic on the following themes:
Keeping positive and motivated
Making sure everyone knows what's expected of them
Building your child's self-confidence and trust in you
Getting your child to follow instructions
Promoting good behaviour
How to limit conflict
Keeping calm when your kids act up
Using sanctions carefully
The tips are based on decades of research from the UK's leading experts. The animations feature the recognisable voices of a host of well-known parents including Olivia Colman, Rob Brydon, Holly Willoughby, Danny Dyer, Romesh Ranganathan and Sandi Toksvig among others.
Watch all the animations and make sure to visit the dedicated website, where you will find further informative resources, to provide parents and carers with tips on how to respond when children play up: www.familiesunderpressure.org.
Testing for Covid 19 – Do you know which test to take and when?
Click here to see a flow chart showing details of which test to take and when.  There are embedded links for further information and advice.
Community Support
Wirral InfoBank
Click here to find local community support services, online events and up-to-date advice and information on the coronavirus situation.
Wirral Food Bank
Please click here for up-to-date information about the support that can be provided.
Staying Safe
Merseyside Police
Click here for the Stay Safe at Home leaflet which contains sections on:
Keeping you and your family safe
Domestic Abuse
Online Safety
Avoiding fraudsters and their scams
Wirral Safeguarding Children Partnership
The Children's Society and National Police Chiefs' Council have created a poster to raise awareness of signs children may require help, support and protection during lockdown:
Domestic Abuse Support and Help in Wirral – It's Never Ok
Click here for advice and support under the following headings:
What is domestic abuse?
How to report and stay safe
Support for victims and survivors
Wirral Family Safety Unit
Information for perpetrators
Click – Parental Conflict
Click here for activities to help you learn to argue better so that you can sort things out and move on together. This will be better for you, better for your partner, and better for your children.
Why stress should be a shared burden.
How you and your partner can best support each other.
How to talk to bring up difficult topics.
How arguments start, and how to stop them.
When things get heated, most people struggle to keep their cool. Research shows that drawn-out disagreements between parents can make children feel stressed and unhappy, particularly when it's obvious to them that something is going on. Click here for advice on:
Do you know the best ways to stay calm and to make sure you listen as well as talk?
Are you prepared to see things differently?
Can you stop a discussion turning into an argument?
Home Start
In light of the Coronavirus pandemic, life can feel uncertain and you may not know where to turn. Click the following link to find out more about useful organisations who may have some of the answers to your questions.
Home Start- Keeping Families Connected
Adult Learning
Wirral Lifelong Learning
Wirral Council's Lifelong Learning Service has been able to put in place a range of Online Adult Learning Courses, delivered by our tutors.
Please click here for all the details
Online Safety
Keeping Your Children Safe Online 
During the current Coronavirus (Covid 19) situation many parents are working from home including home learning with their children. Many children will increase their online activity time during this period due to being at home more, so it is important that families incorporate time to learn about how to keep safe when going online. It is highly likely that online offending will increase during this time, so it is important that children and young people know how to learn, socialise and play online in a safe way.
If parents/carers have any concerns about their child's safety online this should be raised with a member of the school's senior leadership team, either making contact through the school office or via the 'Place to Talk' button on the website's homepage.
London Grid for Learning (LGfL)
Six top tips for parents and carers to keep their children safe online
Be Internet Legends
This website provides online activities for the whole family to help children be safe and confident explorers of the online world.  Interland is an interactive game that consists of completing online challenges in four zones (https://beinternetlegends.withgoogle.com/en_uk):
Kind Kingdom – Respect each other
Tower of Treasure – Secure your secrets
Reality River – Check it's for real
Mindful Mountain – Think before you share
Be Internet Legends Parent Sessions
Watch the following videos as an ideal way to address any concerns you might have about increased tech use, digital wellbeing and more.
The Merseyside Police Digital PCSO
The Merseyside Police Digital PCSO have put together some top tips on how to help keep your child safe when going online:
Online Safety Advice for Parents
These are more sites that we would recommend to parents regarding online safety:
The Children's Commissioner for England
The Children's Commissioner for England, in association with the privacy law firm Schillings, has produced a digital safety and wellbeing kit for parents and a safety guide for children to help keep children safe and well online during the coronavirus outbreak.
https://www.childrenscommissioner.gov.uk/wp-content/uploads/2020/04/cco-parents-digital-safety-wellbeing-kit.pdf
https://www.childrenscommissioner.gov.uk/wp-content/uploads/2020/04/cco-childrens-digital-safety-wellbeing-kit.pdf
Safer Schools have created a Home Learning Hub which is a free library of resources to support parents and carers who are taking the time to help their children be safer online. They have adapted their classroom-based resources to make them easily accessible for everyone
https://oursaferschools.co.uk/home-learning-hub/#primary
More advice can be found on the e-Safety pages in the parents section of the website https://merseyparkprimary.co.uk/parents/e-safety/ and the children's section https://merseyparkprimary.co.uk/pupils/e-safety/.
Harmful or Upsetting Online Content
If your child is upset by the content of any resources that they see online these can be reported through the following agencies:
reporting harmful online content to the UK Safer Internet Centre 
getting government advice and trusted resources from Educate Against Hate on safeguarding from radicalisation, building resilience to extremism, and promoting shared values
Support for Carers of Children Looked After
Please click here for Guidance for families of school children currently learning at home
SEND Support
ADHD Foundation
The ADHD Foundation offer support for the parents of children who live with ADHD, Autism, Dyslexia, Dyspraxia, Dyscalculia and Tourette's syndrome.  Click here to look at the Parents and Carers section of their website.
ADHD support Guide 
Support your child with ADHD during school shutdown
Dyslexia Support
ColorVeil can help people with Dyslexia and Scotopic Sensitivity Syndrome. It applies a coloured tint across the screen so it would be very helpful for pupils while they are completing online learning, at home. Please follow this link to download it onto your devices: https://www.aurelitec.com/colorveil/windows/download/
Talk about Town
Speech and Language Therapy advice to support pupils at home:
General Strategies
Apps for Speech and Language
Support for Pupils Learning English as an Additional Language
These sites offer free home learning which will really benefit children learning English as an Additional Language, for early stage learners particularly:
Learn English Kids: http://learnenglishkids.britishcouncil.org/en/
BBC Bitesize: www.bbc.com/education
Anxiety due to the Coronovirus Pandemic
Click the following link for a Covid-19 short book to ease the anxiety of children. This book can be downloaded in a number of different languages:
https://www.mindheart.co/descargables
Explaining Covid-19 to Children 
Struggling to explain Coronavirus to your children? Click the following links below to read free child-friendly books explaining everything they need to know:
Nosy Crow: Information book explaining coronavirus to children
My Hero is You – How Kids Can Fight Covid-19
What's Going On? A picture book to explain Covid-19 to younger children
Dave the Dog is Worried about Coronavirus
What's Up with this Coronavirus? a comic by Elise Gravel to teach kids about the COVID-19 situation.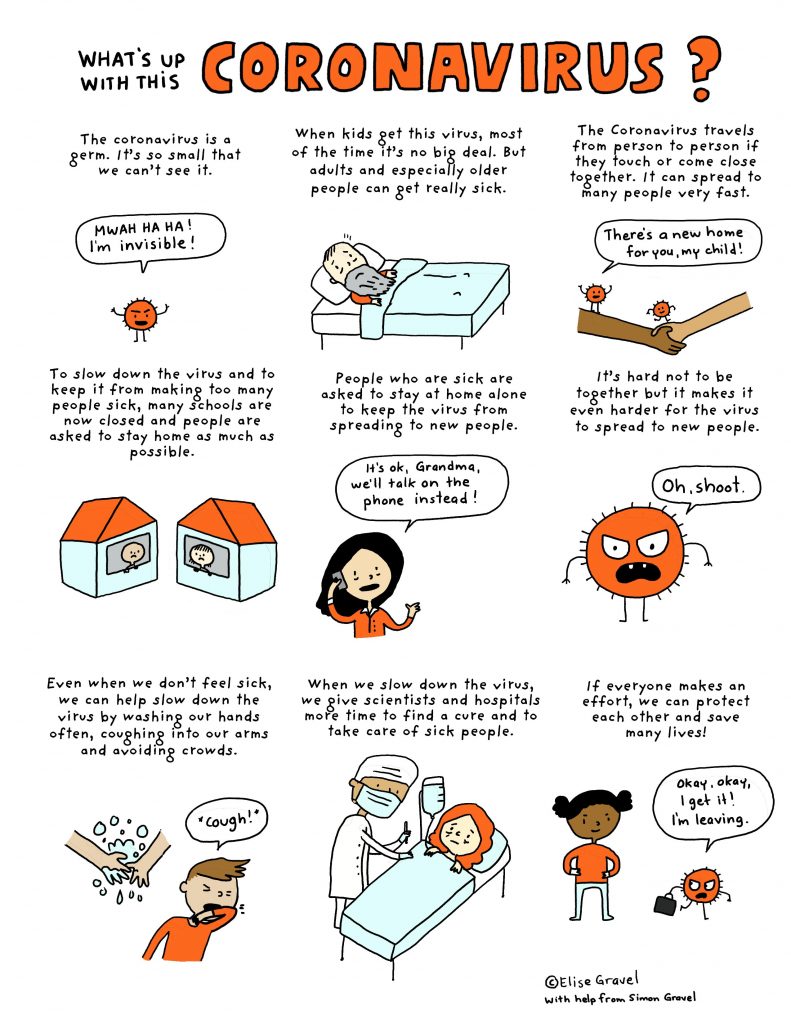 Below are some further resources to help you to answer children's questions about Coronavirus and to reassure them if they are worried:
BBC: Coronavirus: Keep it simple, stick to facts – how parents should tell kids
Children's Commissioner: Children's Guide to Coronavirus
Gaspard and the Quiet Day:  A comforting way of explaining the current situation to young children. A video of a special story written by Zeb Soanes and illustrated by James Mayhew, it is both thoughtful and reassuring.
Coping with Coronavirus and Living in Lockdown – a useful resource to use with children that are anxious about the current situation.
Supporting young people through disruption:
Supporting Children Returning to School After the Lockdown
In the video below, Dr Jess Richardson. principal clinical psychologist (National & Speciliast CAMHS and Maudsley),  provides straightforward, important suggestions for parents and teachers to deal with any potential apprehension or anxiety children may experience on returning to school.
Click here for the accompanying comprehensive fact sheet to the video.
Below are images which
provide answers to various questions parents and children might have when returning back to school after the lockdown. We recognise that many children
will be unsure how to deal with conflicting emotions when they discover how school is different- even those with resilience. Click the images below to enlarge. 
Letting go & future plans – Partnership for Children
An important part of preparing to go back to school is to reflect on what has happened during coronavirus, as well as looking forward to the future. Parents can complete this simple activity sheet with their child to help them let go of things they may have missed out on during the lockdown.
https://www.partnershipforchildren.org.uk/uploads/Files/PDFs/Resilience%20Activities/Letting%20Go%20and%20Future%20plans.pdf
My Back to School Bubble e-Storybook
The storybook 'My Back to School Bubble' has been created with the input from a network of teachers, parents and public health professionals and aims to help children understand the new protective measures that may be in place at their school, in an age-appropriate way.
https://e-bug.eu/downloads/english/COVID19_006_My%20Back%20to%20School%20Bubble_English.pdf
Self Help
Mindfulness Calendar
Daily Five Minute Activities
This is a two-week calendar with daily mindfulness activity suggestions. The simple, short activities encourage children to focus on what's around them to find a sense of calm:
https://mentallyhealthyschools.org.uk/media/2026/mindfulness-calendar-daily-5-minute-activities.pdf
Self-Care Kit
This self-care kit has lots of ideas and activities for self-care for children, including mindful colouring, laughing out loud, breathing exercises, an emotional check-in, ways to express thoughts, a self soothe box and more creative activities.