Parents' Resources
Help Primary School Children Continue their Education during Coronavirus
www.gov.uk/guidance/help-primary-school-children-continue-their-education-during-coronavirus-covid-19
This link will take you to latest advice from the Department for Education.  It covers the following topics:
Building a Home Learning Routine With Your Child
Some easy steps you can take to build a great home learning routine with your child:
A video to help discussions with your child
A useful checklist to help them plan their new routines at home
Wirral Food Bank
Please click here for up-to-date information about the support that can be provided.
Merseyside Police
Click here for the Stay Safe at Home leaflet which contains sections on:
Keeping you and your family safe
Domestic Abuse
Online Safety
Avoiding fraudsters and their scams
Sun Safety
Click here for helpful family articles and ideas that will teach you and your children about sun safety, helping you to enjoy the great outdoors and summer sun as a family.
For five sun ready tips to stay safe click here.
Wirral Lifelong Learning
Wirral Council's Lifelong Learning Service has been able to quickly put in place a range of Online Adult Learning Courses, delivered by our tutors, for the Summer Term 2020.
Please click here for all the details
Rights Respecting Schools
Until schools reopen RRS are publishing a new resource set called 'Article of the Week'. each week.  The set will contain activities, a reflection and an extension exercise. Activities are easy to carry out with the minimum of equipment – most only need a pencil and paper.
Click the following link for this week's article of the week:
Article of the Week Article 15
Keeping Your Children Safe Online 
During the current Coronavirus (Covid 19) situation many parents are working from home including home learning with their children. Many children will increase their online activity time during this period due to being at home more, so it is important that families incorporate time to learn about how to keep safe when going online. It is highly likely that online offending will increase during this time, so it is important that children and young people know how to learn, socialise and play online in a safe way.
The Merseyside Police Digital PCSO have put together some top tips on how to help keep your child safe when going online:
Online Safety Advice for Parents
These are the sites that we would recommend to parents regarding online safety:
Be Internet Legends
This website provides online activities for the whole family to help children be safe and confident explorers of the online world.  Interland is an interactive game that consists of completing online challenges in four zones (https://beinternetlegends.withgoogle.com/en_uk):
Kind Kingdom – Respect each other
Tower of Treasure – Secure your secrets
Reality River – Check it's for real
Mindful Mountain – Think before you share
The Children's Commissioner for England
The Children's Commissioner for England, in association with the privacy law firm Schillings, has produced a digital safety and wellbeing kit for parents and a safety guide for children to help keep children safe and well online during the coronavirus outbreak.
https://www.childrenscommissioner.gov.uk/wp-content/uploads/2020/04/cco-parents-digital-safety-wellbeing-kit.pdf
https://www.childrenscommissioner.gov.uk/wp-content/uploads/2020/04/cco-childrens-digital-safety-wellbeing-kit.pdf
Safer Schools have created a Home Learning Hub which is a free library of resources to support parents and carers who are taking the time to help their children be safer online. They have adapted their classroom-based resources to make them easily accessible for everyone
https://oursaferschools.co.uk/home-learning-hub/#primary
More advice can be found on the e-Safety pages in the parents section of the website https://merseyparkprimary.co.uk/parents/e-safety/ and the children's section https://merseyparkprimary.co.uk/pupils/e-safety/.
Support for Carers of Children Looked After
Please click here for Guidance for families of school children currently learning at home

SEN Support:
Below is also a link to an ADHD support Guide:
Support your child with ADHD during school shutdown
Talk about Town
Speech and Language Therapy advice to support pupils at home:
General Strategies
Apps for Speech and Language
Support for Pupils Learning English as an Additional Language
These sites offer free home learning which will really benefit children learning English as an Additional Language, for early stage learners particularly:
Learn English Kids: http://learnenglishkids.britishcouncil.org/en/
BBC Bitesize: www.bbc.com/education
Click the following link for a Covid-19 short book to ease the anxiety of children. This book can be downloaded in a number of different languages:
https://www.mindheart.co/descargables
Explaining Covid-19 to Children 
Struggling to explain Coronavirus to your children? Click the following links below to read free child-friendly books explaining everything they need to know:
Nosy Crow: Information book explaining coronavirus to children
My Hero is You – How Kids Can Fight Covid-19
What's Going On? A picture book to explain Covid-19 to younger children
Dave the Dog is Worried about Coronavirus
What's Up with this Coronavirus? a comic by Elise Gravel to teach kids about the COVID-19 situation.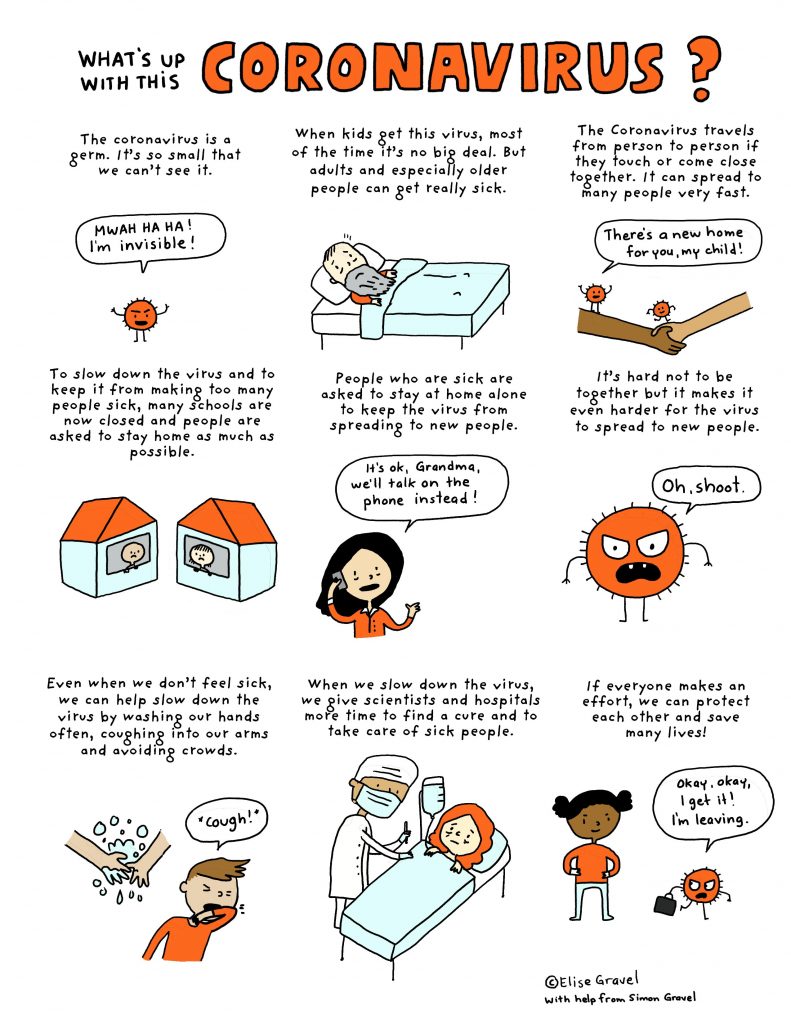 Below are some further resources to help you to answer children's questions about Coronavirus and to reassure them if they are worried:
BBC: Coronavirus: Keep it simple, stick to facts – how parents should tell kids
Children's Commissioner: Children's Guide to Coronavirus
Gaspard and the Quiet Day:  A comforting way of explaining the current situation to young children. A video of a special story written by Zeb Soanes and illustrated by James Mayhew, it is both thoughtful and reassuring.
Coping with Coronavirus and Living in Lockdown – a useful resource to use with children that are anxious about the current situation.
Supporting young people through disruption:
Thank you again for your continued support, this is such a challenging time for us all. We wish you and your families good health in the difficult weeks ahead.