Design Technology
"Design Technology should be the subject where Mathematical brainboxes and Science whizzkids turn their bright ideas into useful products" – James Dyson
Curriculum Intent
Our DT curriculum provides our pupils with the opportunity to tackle problems of a practical nature and develop a range of tool skills. The cross curricular nature of Design and Technology offers a setting for children to apply knowledge and skills linked to other subjects, including science and history. Skills are developed using materials, tools and mechanics which are used to design and make structures, mechanisms, textiles and food products. The intention is for children to work collaboratively – discussing their design ideas; working cooperatively to make their products; evaluating the own work and the products of others. We also encourage pupils to look to the wider world of product design, exploring the work of engineers, architects and other product designers.
Implementation
From Foundation Stages, through to Year 6, pupils are given the opportunities to explore the use of materials and tools; to design and make prototypes and discuss how things work and how they could be improved. They are presented with design problems to solve, working as part of a team. DT is taught through areas of learning in accordance with EYFS documents and the National Curriculum for KS1 and KS2.
The areas of design and making covered by each year group are:
Food Technology– emphasis is on healthy eating and a progression of skills using a variety of cooking techniques, including: boiling, stir-frying, baking, grilling and kitchen equipment and appliances.
Structures– emphasis is on using wooden Jinx frame constructions as a basis from products, ensuring a progression of skills using tools safety.
Mechanisms– this element is incorporated into the products made during the Structures topic and includes: levers/sliders, chassis/axles/wheels, pneumatics, electrical circuits, cams, gears and pulleys.
Textiles– emphasis is on sewing skills, progessively taught across each key stage and including fastenings and other design elements to make a product appealing.
Impact
Design and Technology is monitored through a variety of strategies, including: planning and evaluation scrutiny, lesson observation and product scrutiny. Food Technology is usually incorporated into Healthy Living Week and there is opportunities for children to sample their cooking and take it home. We also encourage ingredients to be home grown from our school gardens and classrooms and send recipes home to encourage families to cook the dishes the children have made in school. The children experience the whole design process from design issue, through planning, trial and error prototypes, finished products and evaluation to see if further improvements are necessary.  Their skills in tool use, kitchen equipment, mechanisms and sewing equipment are progressive, building year on year, to ensure that when pupils leave us, they have a full range of tool skills and how to use them safely.
To view our Design  overview for our Design Technology curriculum please follow the link for your child's year group: .
.
Click below to view the progression of skills across the year groups for Design Technology:
Continue to scroll below to see each year group's curriculum: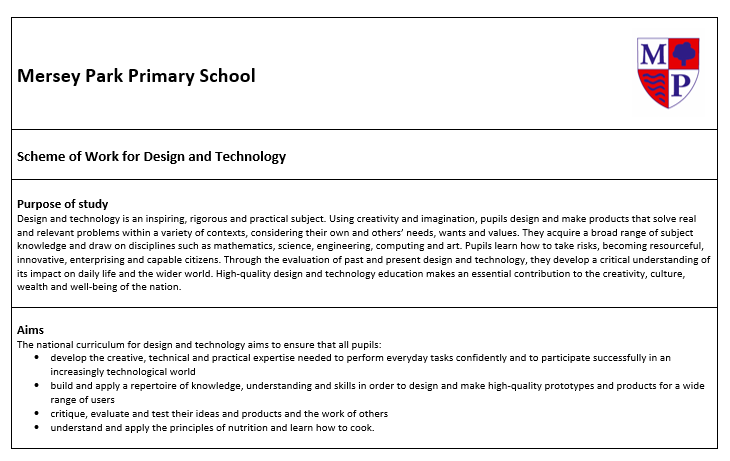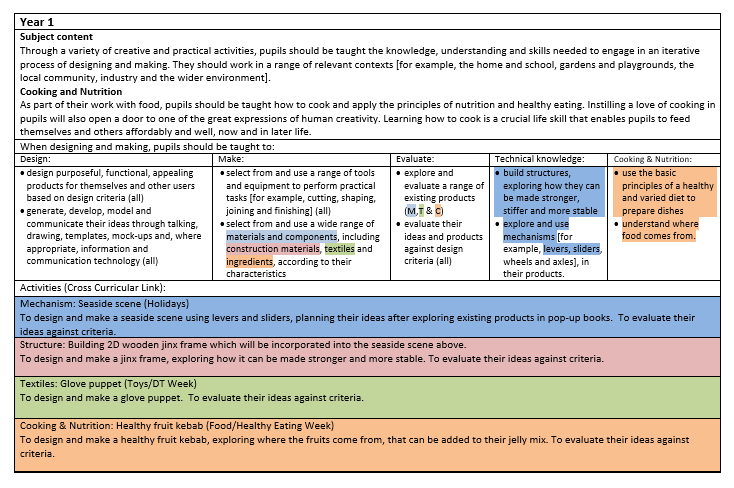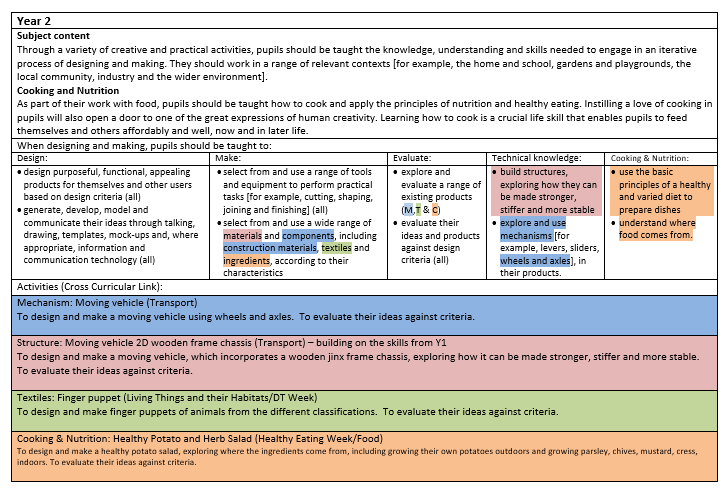 Children researched, designed, made and evaluated finger puppets linked to their Science topic on Living Things.