English
The teaching of reading at Mersey Park Primary School
"The more that you read, the more things you will know. The more that you learn, the more places you will go." – Dr Seuss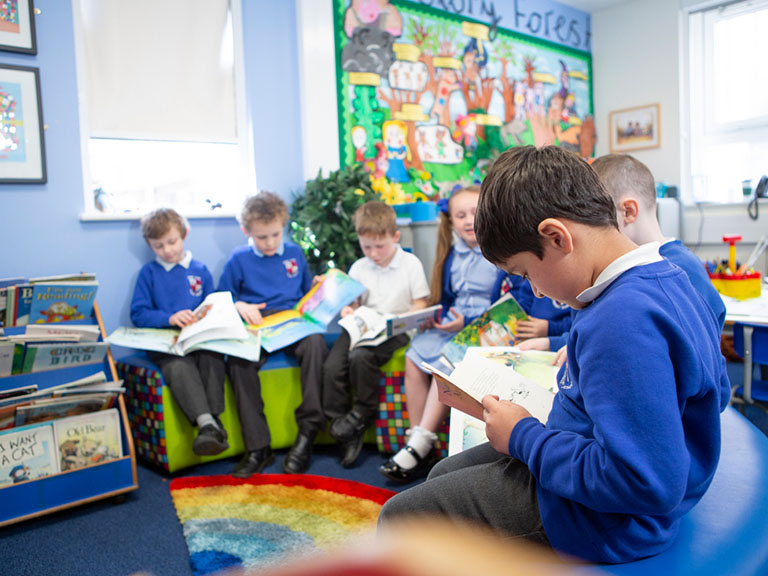 Phonics/Spelling
The school uses synthetic phonics to teach reading. Daily phonics/spelling sessions follow a very structured format. Children are also taught to read and spell words from the National Curriculum and are tested on these each week.
Guided Reading
Guided reading is used throughout the school as a key teaching strategy. Teachers and Teaching Assistants will work with each guided reading group throughout the week. Within these sessions there are lots of opportunities for discussions about the book and key skills are taught such as predicting and summarising.
'Oxford Reading Tree' scheme materials are used for both guided reading and independent sessions. We are extremely well resourced in this scheme allowing children to access: Floppy's Phonics, Traditional Tales, Snapdragons, Fireflies and Glow-worms. As the children progress in their reading these ORT texts are then supplemented by a broader range of graded reading materials and with carefully chosen high quality novels. These more challenging texts help our children to experience a range of genres and writing styles. They provide different sentence structures, vocabulary, layouts and contexts and help our children to experience a wealth of texts and begin to form opinions and preferences in literature.
Individual Reading
Texts are chosen from the school's graded reading scheme and are at the instructional level for each child. The school actively promotes the support of parents in this process by hearing their child read each evening and recording this in the home-school record.
Shared Reading
In these sessions teachers demonstrate how to read a wide variety of different texts and show that reading is a pleasurable and informative experience. Shared reading gives access to challenging texts for all pupils and provides a secure environment for learning to read.
Independent Reading tasks
Teachers set reading tasks for pupils that require them to read without teacher support. Some of these tasks might require a written response. These comprehension activities check for understanding of texts and prepare children for future reading tests.
Whole Class Text
Each class will also have a book that they are studying, chosen from our whole school Literacy spine. The teacher will model reading this aloud to the class while allowing time for questioning and discussions. These carefully selected books ensure that all our children are exposed to a wide range of quality literature and that they develop an awareness of famous authors and different writing styles.
Below is a list of our whole school Literacy spine for each year group:
Year Group
Book Titles

Foundation 1

Where's Spot – Eric Hill

Dear Zoo – Rod Campbell

You Choose – Pippa Goodhart

We're Going on a Bear Hunt – Michael Rosen

Brown Bear, Brown Bear, What do you see? – Bill Martin Jnr

Jasper's Beanstalk – Nick Butterworth

The Very Hungry Caterpillar – Eric Carl

Hairy Maclary from Donaldson's Dairy – Lynley Dodd

Each Peach Pear Plum – Janet & Allan Ahlberg

Hug – Jez Alborough

The Train Ride – June Crebbin

Come on, Daisy – Jane Simmons

Foundation 2

Owl Babies – Martin Waddell

The Gruffalo – Julia Donaldson

Handa's Surprise – Eileen Browne

Mr Gumpy's Outing – John Burningham

Rosie's Walk – Pat Hutchins

Six Dinner Sid – Inga Moore

Mrs Armitage – Quentin Blake

Whatever Next – Jill Murphy

On the Way Home – Jill Murphy

Farmer Duck – Martin Waddell

Goodnight Moon – Margaret Wise Brown

Shhh! – Sally Grindley

Year 1

Peace at Last – Jill Murphy

Can't You Sleep Little Bear? – Martin Waddell

Where the Wild Things Are – Maurice Sendak

The Elephant and the Bad Baby – Elfrida Vipont

Avocado Baby – John Burningham

The Tiger Who Came to Tea – Judith Kerr

Lost and Found – Oliver Jeffers

Knuffle Bunny – Mo Willems

Beegu – Alexis Deacon

Dogger – Shirley Hughes

Cops and Robbers – Janet & Allan Ahlberg

Elmer – David McKee

 

Year 2

Traction Man is Here – Mini Grey

Amazing Grace – Mary Hoffman

Not Now Bernard – David McKee

The Flower – John Light

The Owl Who Was Afraid of the Dark – Jill Tomlinson

The Hodgeheg – Dick King-Smith

 

Year 3

The Iron Man – Ted Hughes

Cat Tales: Ice Cat – Linda Newberry

The Sheep-Pig – Dick King–Smith

The Lion, the Witch and the Wardrobe – C S Lewis

The Battle of Bubble and Squeak – Philippa Pearce

Hansel and Gretel – Anthony Browne

 

Year 4

Bill's New Frock – Anne Fine

Charlotte's Web – EB White

Why the Whales Came – Michael Morpurgo

The Firework- Maker's Daughter – Phillip Pullman

The Snow Walker's Son – Catherine Fisher

Voices in the Park – Anthony Browne

 

Year 5

Varjak Paw – SF Said

Wolf Brother – Michelle Paver

Street Child – Berlie Doherty

The Midnight Fox – Betsy Byars

Tom's Midnight Garden – Philippa Pearce

FaRTHER – Grahame Baker-Smith

 

Year 6

Holes – Louis Sacher

Clockwork – Philip Pullman

Skellig – David Almond

Fireweed – Jill Paton Walsh

River Boy – Tim Bowler

The Arrival – Shaun Tan
Please see our Reading Policy for more detail
The children are also expected to read regularly at home. Here are some top tips that might help when you are reading with your child.
7_Top_Tips_to_Support_Reading_at_Home
Celebrating reading at Mersey Park
At Mersey Park we value reading and aim for all our children to become enthusiastic, lifelong readers. As well as the daily teaching of reading we have many other reading activities that run throughout the year.
Whole school regular

'Reading Buddy'

sessions allow children to read with a buddy from another year group. The sessions are planned alongside special events and themes in school and are always something that the children look forward to.
Each classroom has an inviting, colourful

book corner

. These are well resourced and the books are changed regularly to maintain interest and to match new topics. Our two school libraries are well stocked and used regularly by the children.
Our use of

'Trophy Words'

in all aspects of literacy help the children to understand new and challenging vocabulary.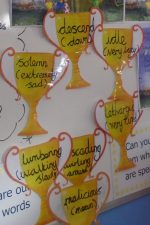 The school has good links with our

local libraries

.
A whole school

Mersey Park Mindset

approach ensures that children are praised, encouraged and commended for both effort and improvement in reading.
Visits from

'Mystery Readers'

provide an opportunity for classes to hear a different adult reading aloud from a chosen book. The children love to try and guess who the mystery readers might be.
World Book Day

is celebrated within school and has included author visits, fancy dress, decorating classroom doors and a 'Drop Everything and Read' event.
Many year groups study a

'Power of Reading'

Some favourites include 'Traction Man', 'Floodland', 'Leon and the Place Between' & 'The Miraculous Journey of Edward Tulane'. There are lots of opportunities for art, dance and drama and the children really grow to love these texts.

We also provide the

Bug Club

home reading programme. This exciting resource allows children to access allocated books on their tablets/computers at home. The more they read the more rewards they receive. As well as developing their reading skills this Bug Club motivates our children to read for pleasure with colourful, engaging books and built in comprehension challenges. If you would like to access Bug Club please follow this link: Bug Club Login
The Teaching of Phonics, Spelling and Writing at Mersey Park Primary School

Phonics
Right from the start children are taught to tune into sounds which they hear in both the classroom and outdoor environment. They learn how to listen through story, games, rhymes and talk. The Jolly Phonics scheme is used alongside Letters and Sounds. The children are taught to segment and blend words moving onto letter recognition and formation when ready.  As the children develop at different rates they then join differentiated daily phonics groups that are specific to their needs. Some children receive additional phonics sessions during the day if this is required.
The teaching of phonics at Mersey Park is a curriculum priority. This is because good phonic skills ensure that the children make good progress with reading, writing and spelling.
The daily phonics sessions are very focused and they all follow the same structure, as outlined below:
Revision of previous sounds (learned with actions).
Handwriting practice for the last sound.
Introduction of new sound and action.
Using sound button actions to read the sound in words.
Dictated sentence-the children write a sentence dictated by the adult.
Fine motor skill activity-this helps improve letter formation and handwriting.
Memory activity-this helps to improve the children's memory especially when they are learning spellings.
Alphabet chant.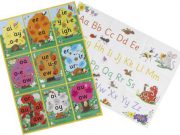 Spelling lists, which are sent home and tested weekly, link to the phonics learned that week. If you have any questions or would like any more information, please do not hesitate to contact school.
Spelling
This follows on from our Phonics work. The children are taught to read and spell age appropriate words from the National Curriculum. They are tested on these each week. Theses structured spelling sessions include handwriting, revision of previous spelling patterns and the spelling and understanding of new words. Throughout school we also have a set of Non-negotiable spellings which the children must spell correctly in all aspects of written work. Success and effort in weekly spelling tests is rewarded with spelling prizes. Please see Year group information pages for this week's spellings.
Writing
Years 1- 6 follow the National Curriculum for writing. We also teach the children a specific, progressive range of sentence types in each year group. Our weekly 'Grammar Hammer' sessions help the children understand and use correct grammar in their writing. Throughout school, 'Trophy Words' and the use of 'Magpie Books' encourage the children to use new, challenging vocabulary both in spoken language and in their written work. The 'Talk for Writing' approach and our weekly Big Write sessions are used to develop confidence and stamina in writing tasks. Children are taught to use a cursive handwriting script and take pride in the presentation of their work.