Geography
"Geography is a subject which holds the key to the future" – Michael Palin
We are proud to have been awarded the national

Geography Award

at bronze level in September 2018 showing our commitment to providing quality geography education.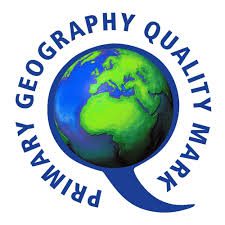 Primary Geography Quality Mark 
The Primary Geography Quality Mark is seen as a key strategy for raising the quality of Geography in Primary schools. Over the past year, everyone at Mersey Park has made a contribution to achieving our first Geography Mark and we are very proud to achieve Bronze. This will lead the way on our Geographical journey at Mersey Park and prepare us for the silver or gold submission in 2021.
The Geographical Association states the following about schools who have been awarded the mark:          'The teachers in these schools ensure that their planning, policies and practice maximise pupil learning and are not afraid to take risks, innovate and challenge to achieve progress in geography. Key threads through the curriculum are intercultural understanding, local fieldwork, environmental issues, critical thinking and sustainability. These are explored in a variety of places across the world from local to global. The schools use creative approaches to stimulate learning and place high value on using real-life issues to promote understanding.'
Specifically, Mersey Park's feedback from the recent application is summarised below:
There is undoubtedly good quality geography teaching and learning going in the school.
The subject leader has obviously made good use of the PGQM process to raise the profile of Geography within the school to good effect.
Geography is being used well to support children's behaviour and development in some classes within the school.
Assessment strategies are beginning to inform future teaching and learning in the school.
To view the overview for our Geography curriculum please follow the link for your child's year group: .
Click below to view the progression of skills across the year groups for Geography:
Geography Progression of Skills
Topics of study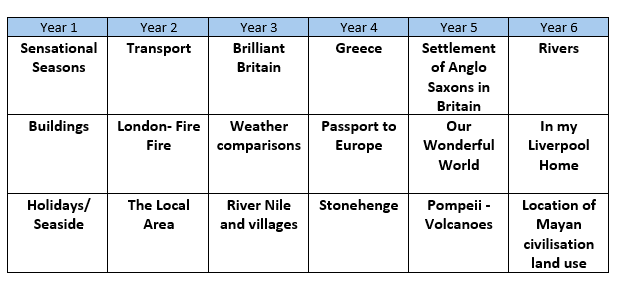 Curriculum Coverage
In Key Stage, 1 children at Mersey Park are involved in a range of physical and human geography which equips them with the knowledge and understanding about the world, United Kingdom and their locality. They begin to understand basic vocabulary relating to human and physical geography and also get to experience and enhance geographical skills, including first-hand observations, surveys and analysis of local routes.
In Key Stage 2, pupils extend their knowledge and understanding focussing on the human and physical geographical differences between continents and their countries. They investigate the location and characteristics of the most famous and significant world geographical sites. There is also an emphasis on topo-geographical features (hills, mountains, coasts and river), land-use patterns and a need to understand how some of these aspects have changed over time.  Mersey Park children acquire these skills through purposeful topic activities and unique and creative topic books.
Key stage 1 geography termly topics include: Sensational Seasons, Buildings, Holidays, Transport and Plants, Animals and Habitats.
Key stage 2 geography termly topics include: Travelling Around the World, Passport to Europe, Passport Around the World, Rivers and In my Liverpool Home.
Events
Eco Club trip to Birkenhead Park investigating changing seasons and how to look after our local environment.
Eco club litter picks around the local school area.
Weekly Forest school trips to Birkenhead Park.
Royden Park trip investigating the local area.
Year 6 Port Sunlight River Park Trip.
New Brighteners Environmental group assembly and workshops.
Click on the images below to see some of the Geography displays we have up around school: