Geography
"Geography is a subject which holds the key to the future"
Michael Palin
Intent
At Mersey Park we believe that Geography stimulates curiosity and fascination about the world and its people. We strive to equip pupils with knowledge about diverse places, people, resources and both natural and human environments, together with a deep understanding of the Earth's key physical and human processes, following National Curriculum objectives.
As our learners progress, their growing knowledge about the world should help them to deepen their understanding of the interaction between human and physical processes and of the formation and use of landscapes and environments. We study a range of significant figures in the field of geographical enquiry throughout the Key Stages and look at their contributions to our knowledge of the world we live in today.
We aim to develop confident learners, through exposure to a range of practical experiences, which build their geographical knowledge, understanding and skills enabling them to explain how the Earth's features are shaped, interconnected and change over time. We encourage an inclusive school environment and ensure that all pupils, including those most vulnerable and those who are disadvantaged, have the opportunity to access the full and broad curriculum through carefully planned support and scaffolding as required.
Implementation
At Mersey Park, all geographical work undertaken has been carefully organised to provide breadth and depth of knowledge and understanding as well as developing skills.
Beginning in Foundation Stage, our pupils are given opportunities to discover and learn about the world they live in. The Geography element of the children's work is related to the Knowledge and Understanding of the World objectives set out in the EYFS Curriculum.
In Key Stage 1, Geography develops pupil knowledge, skills and understanding relating to their own environment and the people who live there and an awareness of the wider world, in accordance with the KS1 National Curriculum.
In Key Stage 2, Geography extends pupil knowledge, skills and understanding relating to people, places and environments in the United Kingdom and beyond, developing an appreciation of how places relate to each other and the wider world, in accordance with the KS2 National Curriculum.
Curriculum progression is clearly set out in our Progression of Skills planning document, which has been structured to allow frequent opportunities for children to revise and review key facts and knowledge. Our carefully planned curriculum starts with children learning first about their local area and then using this knowledge to expand their thinking to look at the wider country and then the world and beyond. We feel it is very important for our children to develop a strong sense of community and develop a passion about the conservation and preservation of our local environment. This is why we try to make use of our local environment, as much as possible, in our teaching. It is important for us to teach our pupils about how to respect their local environment and what they can do to help. It is our hope that this respect in turn will transfer a better understanding and appreciation for environmental issues affecting the wider world.
A strong focus for teaching is the use of correct technical vocabulary. Teachers carefully plan the language they use during their sessions and model, through discussion, specific geographical vocabulary to help embed this language in the children's long term memory. This is also reinforced through the use of Knowledge Organisers which are used to recap, revise and revisit key vocabulary regularly. We also plan opportunities for P4C session throughout our Geography curriculum to allow pupils to debate important geographical and environmental issues and express their opinions about the world they live in.
Teachers are provided with regular opportunities to develop their own subject knowledge through sharing good practice, peer observation and visiting experts.
Each Geography lesson starts with a mini-quiz which revises prior knowledge and embeds important facts into children's long term memory. These quizzes are informal and allow teachers an opportunity to address misunderstandings and highlight key areas which need more revision. Short assessments are undertaken by the children during and at the end of each topic to check for gaps and revise important facts if required. This information is then used to inform future teaching and for teachers to adapt and edit planning as required.
National Curriculum for Geography
https://www.gov.uk/government/publications/national-curriculum-in-england-geography-programmes-of-study/national-curriculum-in-england-geography-programmes-of-study
Impact
The impact of our Geography curriculum is that our learners are equipped with the geographical skills and knowledge that will enable them to be ready for the secondary curriculum and for life as an adult in the wider world.  The children will be able to discuss their learning and demonstrate their knowledge and understanding through a range of activities.
Outcomes in topic books evidence a broad and balanced Geography curriculum and demonstrate children's acquisition of identified key geographical knowledge and skills.
Mersey Park Primary Whole School Geography Overview
At Mersey Park Primary School we believe that Geography enables children to make sense of the complex and dynamically changing world that they live in. Our aim is for children to develop a natural curiosity about their immediate surroundings and the wider world, becoming more aware of people, places and environments. Children will be confident using their taught geographical skills to collect and communicate information, including drawing and interpreting maps. They will be taught through engaging, fun Geography lessons and will be given the opportunity for meaningful learning opportunities and field work. Some of our exciting topics include: Sensational Seasons, Fire! Fire!, Unique UK, Passport to Europe and Our Wonderful World.
Geography Curriculum
To view the overview for our Geography curriculum please follow the link for your child's year group: .
We are proud to have been awarded the national

Geography Award

at bronze level in September 2018 showing our commitment to providing quality geography education.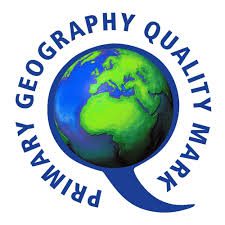 Primary Geography Quality Mark 
The Primary Geography Quality Mark is seen as a key strategy for raising the quality of Geography in Primary schools. Over the past year, everyone at Mersey Park has made a contribution to achieving our first Geography Mark and we are very proud to achieve Bronze. This will lead the way on our Geographical journey at Mersey Park and prepare us for the silver or gold submission in 2021.
The Geographical Association states the following about schools who have been awarded the mark:          'The teachers in these schools ensure that their planning, policies and practice maximise pupil learning and are not afraid to take risks, innovate and challenge to achieve progress in geography. Key threads through the curriculum are intercultural understanding, local fieldwork, environmental issues, critical thinking and sustainability. These are explored in a variety of places across the world from local to global. The schools use creative approaches to stimulate learning and place high value on using real-life issues to promote understanding.'
Specifically, Mersey Park's feedback from the recent application is summarised below:
There is undoubtedly good quality geography teaching and learning going in the school.
The subject leader has obviously made good use of the PGQM process to raise the profile of Geography within the school to good effect.
Geography is being used well to support children's behaviour and development in some classes within the school.
Assessment strategies are beginning to inform future teaching and learning in the school.
Events
Eco Club trip to Birkenhead Park investigating changing seasons and how to look after our local environment.
Eco club litter picks around the school grounds and local school area.
Weekly Forest School trips – Year 4.
New Brightoners Environmental group assembly and workshops.
Year 1 walk around Mersey Park.
Year 1 walk around the local area studying different buildings
Year 1 visit to New Brighton.
Year 2 local traffic survey
Year 2 visit to Birkenhead Community Fire Station
Year 3 visit to Museum of Liverpool
Year 3 visit to Birkenhead Park
Year 3 visit to Port Sunlight
Year 4 Spanish Day
Year 4 residential visit to Barnstondale
Year 5 visit to World Museum Liverpool.
Year 6 visit to Port Sunlight River Park Trip.
Year 6 residential visit to Oaklands
Click below to view the progression of skills across the year groups for Geography:
Geography Progression of Skills
Displays
Here are some of the Geography displays we have up around school:
Forest Schools
These photographs show some of the activities completed at Forest School.
GEOGRAPHY REPORT TO GOVERNORS