History
"We are not makers of History. We are made by History."
Martin Luther King, Jr
Intent 
We believe that students deserve a broad and ambitious History curriculum, rich in skills and knowledge, which immerses students in a range of cultures and engenders an enquiring and critical outlook on the world. Our History curriculum gives students the opportunity to explore issues at a local, national and international level from the ancient era through to the twentieth century.  This range of history offers the opportunity to explore different people's perspectives on issues and events and think critically about the world in which they live. Our curriculum is carefully sequenced to give students a broad understanding of the chronological development of British history, as well as being able to make links to other societies, cultures and world events.
In the Foundation Stage, our pupils are given opportunities to discover and learn about the world they live in. The History element of the children's work is related to the Knowledge and Understanding of the World objectives set out in the EYFS Curriculum.
In Key Stage One, History develops pupil's understanding of the similarities and differences between ways of life in different time periods, drawing comparisons with modern life, in accordance with the KS1 National Curriculum.
In Key Stage Two, History extends pupil's skills to develop a chronologically secure knowledge and understanding of local, British and world history, establishing clear narratives within and across the periods they study, in accordance with the KS2 National Curriculum.
Implementation 
We feel it is important to provide our pupils with opportunities they may not otherwise experience and often try to bring our History Curriculum to life with trips to local museums or areas of significant historical interest, for example visiting Chester while studying the Romans. In recent years we have also arranged visits from local historians to talk to the children about certain topics and offer a range of perspectives.
A key part of our History curriculum is the study of important historical figures. We ensure we provide children with the opportunity to learn about a range of significant individuals throughout the Key Stages and look at how these individuals have contributed to the world we live in today.
We encourage an inclusive environment with all of our curriculum and ensure all pupils, including those most vulnerable and those who are disadvantaged, have the opportunity to access the full and broad curriculum through carefully planned support and scaffolding as required.
Understanding key concepts within History, such as significance and causation and consequence, unlock the door for students to be able to ask leading questions, analyse information and convey their views in a methodical and structured way.  These skills are honed and developed progressively through the curriculum to create historians confident in communicating their views, both in writing and orally.  Each topic is framed around a challenging historical question which is linked to a key historical concept. Lessons mirror this, with key questions forming the basis for each lesson enquiry. This will ensure students access and apply high level vocabulary with increasing rigour over their time in history classrooms. We also plan opportunities for P4C sessions throughout our History curriculum to allow pupils to debate important historical issues and express their opinions about how these events have shaped the world we live in today.
Each History lesson starts with a mini-quiz which revises prior knowledge and embeds important facts into children's long-term memory. These quizzes are informal and allow teachers an opportunity to address misunderstandings and highlight key areas which need more revision. Short assessments are undertaken by the children at the end of each topic to check for gaps and revise important facts if required. This information is then used to inform future teaching and for teachers to adapt and edit planning as required.
End points are taken from the History aims in the National Curriculum and are looked at every term, and with some objectives discussed and revisited every lesson.
The History curriculum offered, immerses students in a range of cultures and engenders an enquiring and critical outlook on the world, with skills that can be applied in other subjects and in their future endeavours. Providing children with the opportunity to study a range of other cultures is something which is very important for our children to experience.
The aim of our curriculum is to allow children to: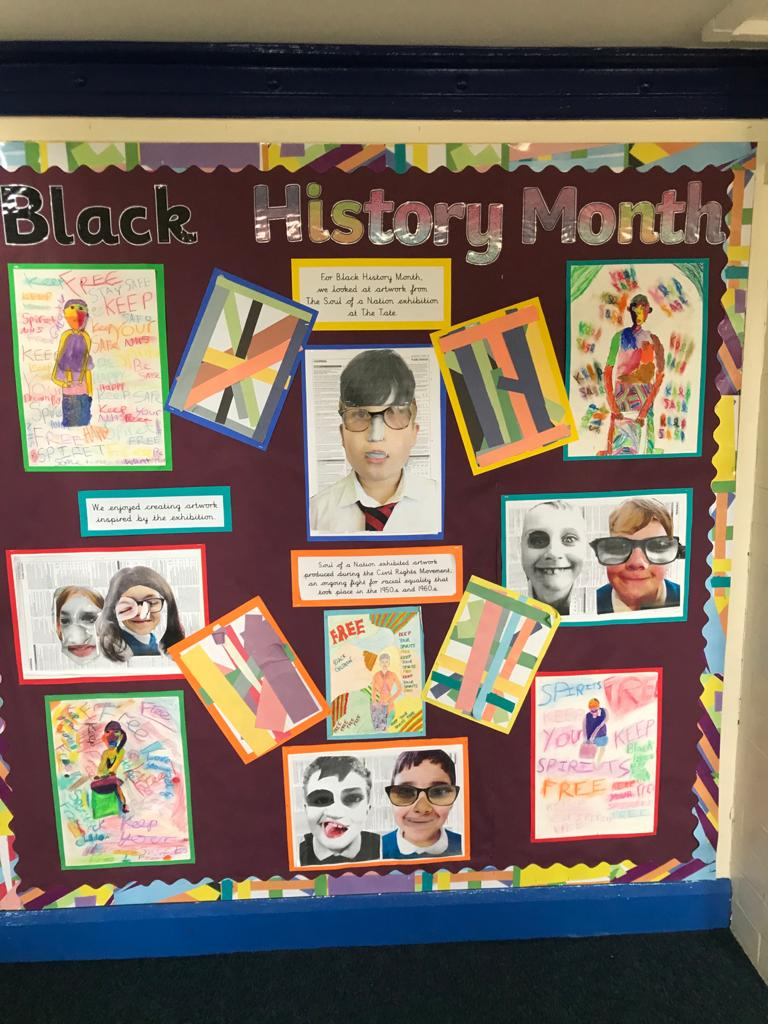 · study issues at a local, national and international level in Ancient, Medieval, Early Modern and Modern time periods
· understand Britain's influence on the wider world
· study the history and influence of different peoples and places across time
· assess the impact of events on individual and communities
· be exposed to a high level of historical and conceptual vocabulary
· learn to interpret a broad range of sources including visual sources and propaganda
· be exposed to different people's perspectives on issues and events
· develop an understanding of how to apply and write about historical concepts such as causation; continuity and change; significance; consequence; diversity
· challenge received wisdom about historical figures and issues
· develop confidence in orating and debating historical issues and evaluate historical interpretations
· find enjoyment, fun, achievement and fulfilment in History lessons and research
Teachers are provided with regular opportunities to develop their own subject knowledge through sharing good practice, peer observation and visiting experts.
Impact
The impact of our History curriculum is that our learners are equipped with the historical knowledge and understanding that will enable them to be ready for the secondary curriculum and for life as an adult in the wider world.  The children will be able to discuss their learning and demonstrate their knowledge and understanding through a range of activities. They will apply critical thinking skills when analysing sources of information and take a broad and balanced view when presented with important issues.
In the Early Years, children are able to talk about the past and present and begin to use simplified timelines to show a typical day.
By the end of Key Stage One, children will begin to use timelines more efficiently to show the history of a significant individual's life and will be able to discuss the difference between living memory and beyond living memory. Children in Year 2 are able to discuss key significant events from the past and how they have affected our lives today.
At the end of Key Stage Two, children have a clear understanding of the British timeline and how the different civilisations have changed the way we live. They are able to talk about, in depth, the key aspects of certain topics throughout British history and certain significant individuals within the topics. Timelines are used effectively and consistently to show an understanding of chronology and children are able to scale these correctly using knowledge gained from Maths lessons.
Outcomes in topic books evidence a broad and balanced History curriculum and demonstrate children's acquisition of identified key historical knowledge, skills and understanding.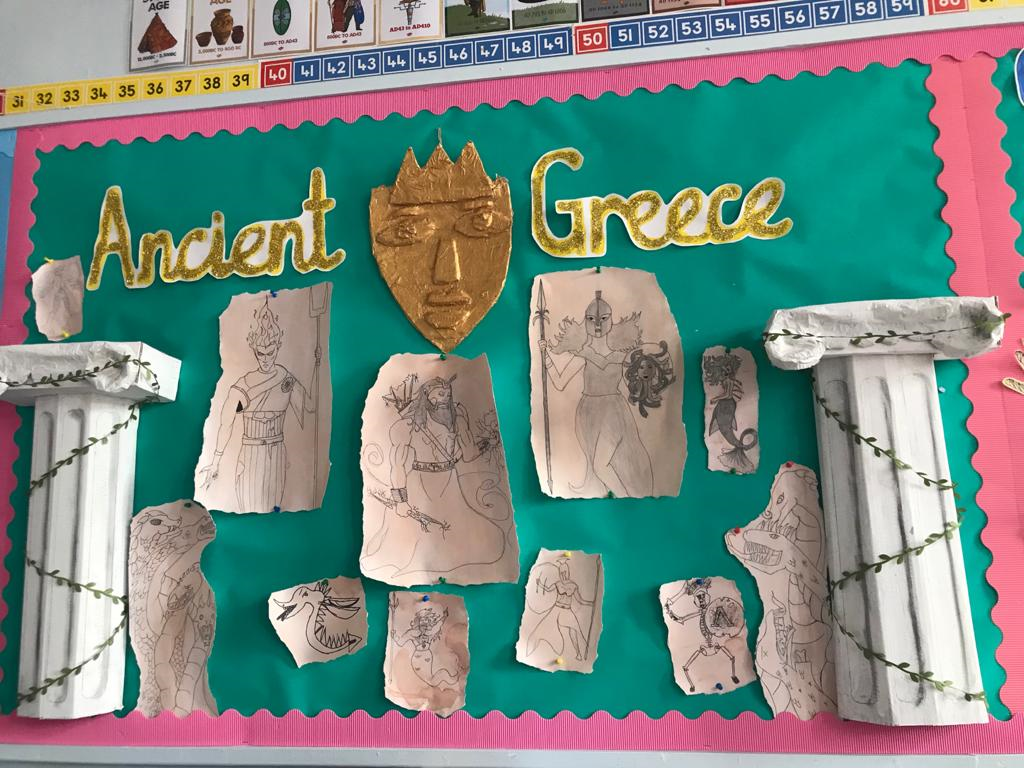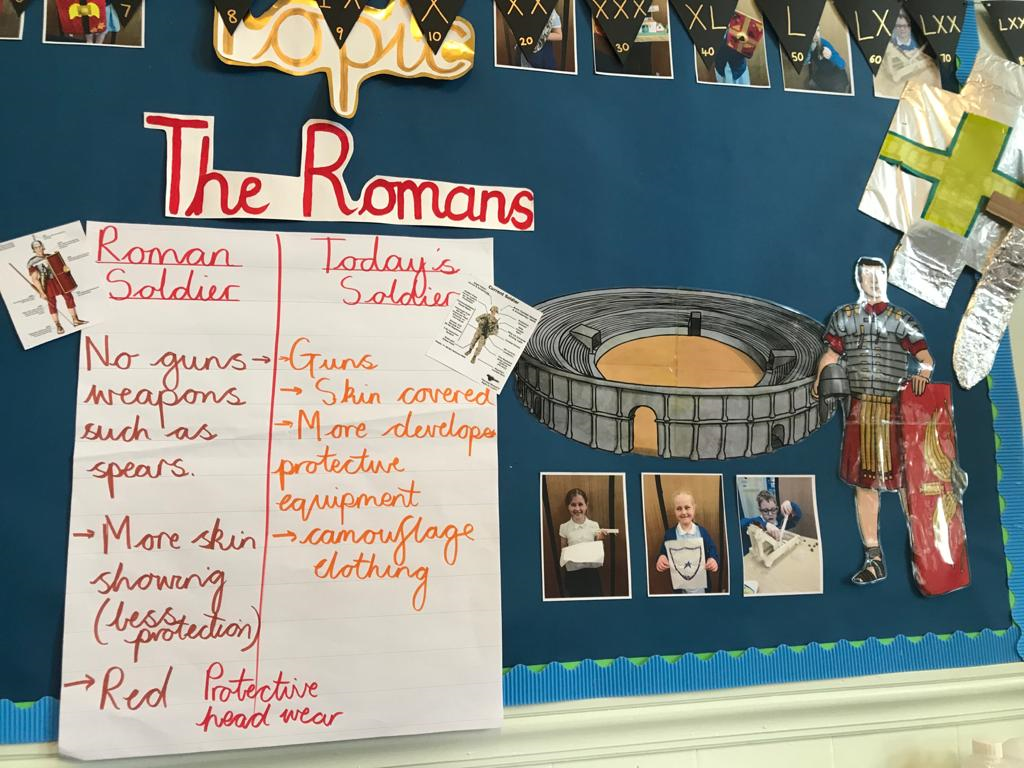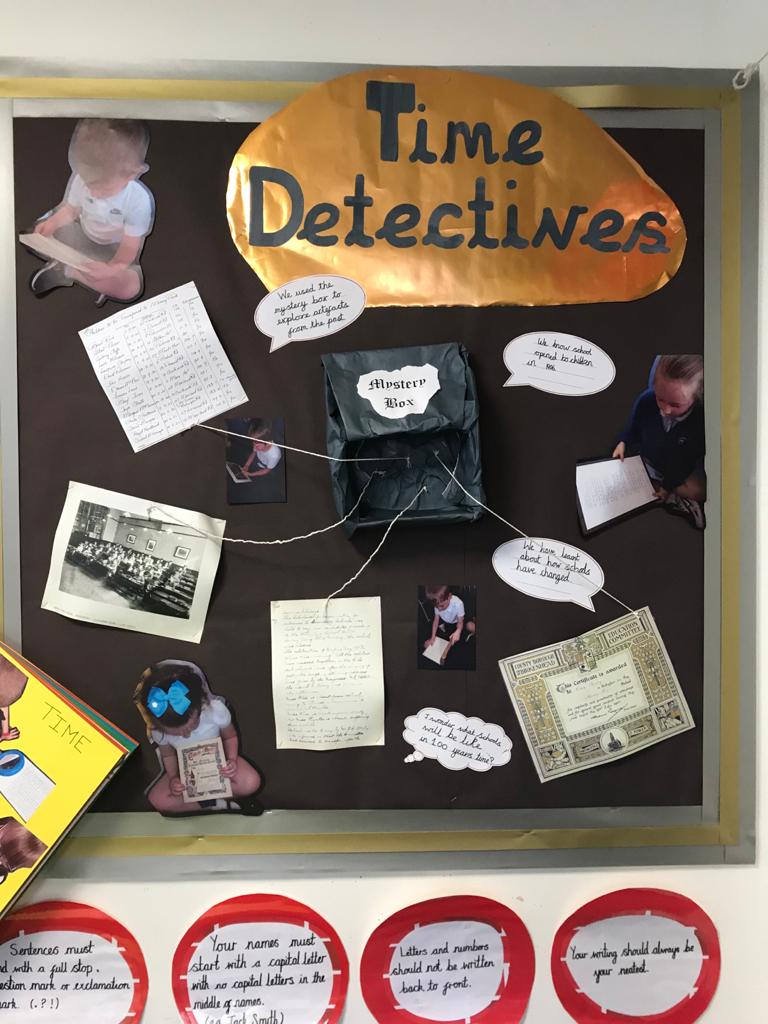 To view the overview for our History curriculum please follow the link for your child's year group:
Mersey Park History Long Term Overview Year 1
Mersey Park History Long Term Overview Year 2
Mersey Park History Long Term Overview Year 3
Mersey Park History Long Term Overview Year 4
Mersey Park History Long Term Overview Year 5
Mersey Park History Long Term Overview Year 6
Click below to view the progression of skills across the year groups for History: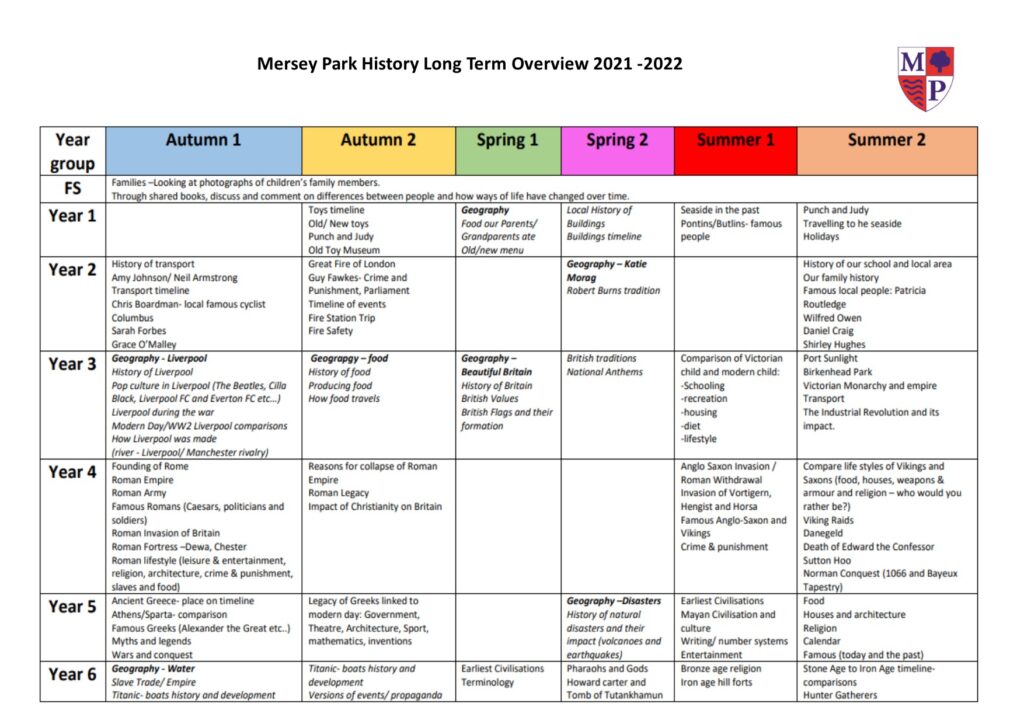 Events
Year 3 Victorian trip to Croxteth Hall.
Year 5 Roman trip to Chester.
FOUNDATION SUBJECT REPORT TO GOVERNORS – June 2021 – HISTORY