Physical Education
"Physical fitness is not only one of the most important keys to a healthy body, it is the basis of dynamic and creative intellectual activity" – John F Kennedy
Curriculum Intent
At Mersey Park we believe that physical education, experienced in a safe and supportive environment, is a vital contributor to a pupil's physical development and well-being. A broad and balanced PE curriculum, which inspires all, is intended to provide for pupil's increased self-confidence in their ability to manage themselves and their bodies within a variety of movement situations. Progressive learning objectives and varied teaching approaches endeavour to provide stimulating, enjoyable, satisfying and appropriately challenging learning experiences for all pupils, whilst adopting a thematic approach across the school, focusing on different areas of our curriculum intent for PE.
A balance of individual, paired and group activities: co-operative, collaborative and competitive situations aims to cater for the preferences, strengths and needs of every pupil. Pupils are encouraged to appreciate the importance of leading healthy and active lives and begin to understand those factors that affect health and fitness.
Our aim is that through PE all children will:
Develop skillful use of the body, the ability to remember, repeat and refine actions and to perform them with increasing agility, balance and co-ordination.
Develop an increasing ability to select, link and apply skills, tactics and compositional ideas in competition.
Improve observation skills and the ability to describe and make simple judgements on their own and others work, and to use their observations and judgements to improve performance.
Develop an understanding of the importance of being physically active, the effects of exercise on the body and an appreciation of the value of safe exercising.
Develop the ability to work independently, and communicate with and respond positively towards others whilst developing their own personal goals, ambitions and leadership skills.
Promote an understanding of safe practice, and develop a sense of responsibility towards their own and others' safety and well-being.
Develop positive attitudes to physical endeavour including resilience, courage, respect and fair play whilst having the ability to cope with success and failure.
Find enjoyment, fun, achievement and fulfilment in physical activity.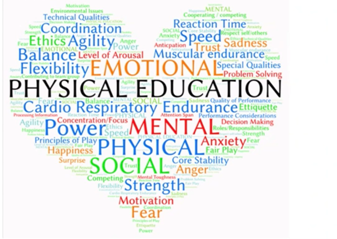 Curriculum Coverage
Every year group delivers a curriculum based on the Wirral PE scheme of work. We teach a range of different areas including Gymnastics, Dance, Games and Athletics.  A number of our PE lessons are taught by Premier Sport coaches who specialise in various areas of expertise and are currently teaching Year 3. Recently Year 5 and 6 have had lessons taught by a dance specialist from Premier Sport.
All children in Year 4, 5 and 6 are taken swimming, each completing a 5 hour block. They are assessed against the National Curriculum standard using the online Swimphony assessment package. 76% of our Year 6 children achieved National Curriculum Level swimming a distance of 25m using a variety of strokes. In Year 4 and Year 6 pupils have the opportunity to take part in outdoor pursuit activities during residential stays at Barnston Dale and Oaklands.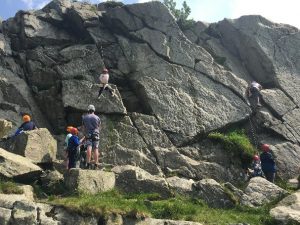 In past year we have purchased new PE kits for every child in school so that all children can participate in lessons.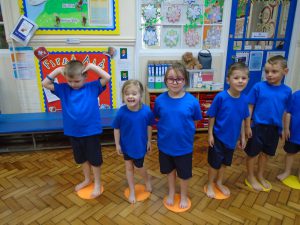 Events
We have taken part in a number of competitions and tournaments in the past year, some of which include:
Premier Sport Competitions
Gym Festival- Bedford Drive Primary KS1
Athletics/Striking and Fielding- West Kirby Primary Y3/4
G&T Invasion Games- St Werburghs Primary Y5/6
Fencing Competition- West Kirby Primary Y4/5/6
Cheerleading Festival- KS2
Football Competitions
Premier League schools tournament Liverpool FC
Premier League schools tournament Everton FC
Houlighan Cup Y5&6
Corgi Cup Y4&5
Dance Competition
Wirral Dance Festival – Birkenhead Park School
The children celebrated Sports Relief in March. They took part in a Sports Relief mile and a sponsored serenity.
We offer a range of extra curricular clubs.  However due to the current situation these are on hold.
PE Extra Curricular Clubs- Autumn Term
Monday
Wake Up Shake Up- 8.30am (Year 1- 6)
Fitness- break time (Year 3 and 4)
Basketball 3:15- 4:15 (Year 1 and 2)
Tuesday
Wake Up Shake Up- 8.30am (Year 1- 6)
Dance- 3:15- 4:15 (Year 1- 6)
Wednesday
Wake Up Shake Up- 8.30am (Year 1- 6)
Fitness- Break time (Year 3 and 4)
Dodgeball- 3:15- 4:15 (Year 3- 6)
Family Fitness- 3:15- 4:15 (Year 1 and 2)
Thursday 
Wake Up Shake Up- 8.30am (Year 1- 6)
Football- 3:15- 4:15 (Year 1 and 2)
Football- 3:15- 4:15 (Year 5 and 6)
PE Extra Curricular Clubs- Spring Term
Monday
Fitness- Break time (Year 3 and 4)
Multi Skills Gym 3:15- 4:15 (Year 1 and 2)
Tuesday 
Family Circuits- 3:15- 4:15 (Year 1 and 2 )
Wednesday 
Fitness- Break time (Year 3 and 4)
Archery and Fencing- 3:15- 4:15 (Year 3-6)
Thursday
Football- 3:15- 4:15 (Year 1 and 2)
Football- 3:15- 4:15 (year 5 and 6)