Rights Respecting Schools
Our school has achieved

the Unicef UK Recognition of Commitment award for our rights-respecting work. We are currently working towards the level one award. 
School Closures
Until schools reopen Rights Respecting Schools are publishing a new resource called 'Article of the Week' each week. Activities are easy to carry out with the minimum of equipment – most only need a pencil and paper.
Click the following link for this week's article of the week:  Article of the Week Article 29
Philosophy for Children
We deliver some of our Rights Respecting Schools work through Philosophy for Children enquiries, which gives the pupils time to think about and discuss highlighted articles.  Click here to see the articles that we are focusing on this year through our Philosophy for Children Concept Map.
What is a Rights Respecting School?
"A Rights Respecting School is a place where we can all feel confident with ourselves and it encourages us to use our voice. It has helped me build my confidence. It has helped me raise awareness of injustice in the world".
Key Stage 1 Rights Respecting School Display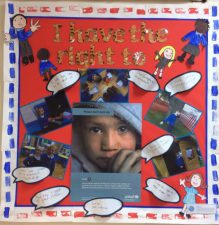 Find out more about the award below:
There are four key areas of impact for children at a Rights Respecting school; wellbeing, participation, relationships and self-esteem. The difference that a Rights Respecting school makes goes beyond the school gates, making a positive impact on the whole community.
Children are healthier and happier
By promoting the values of respect, dignity and non-discrimination, children's self-esteem and well-being is boosted and they are less likely to suffer from stress. A child who understands their rights understands how they and others should be treated and their sense of self-worth is strengthened.
Children feel safe
The programme gives children a powerful language to use to express themselves and to challenge the way they are treated. They are also able to challenge injustices for other children. Children and young people are empowered to access information that enables them to make informed decisions about their learning, health and wellbeing.
Children have better relationships
Both with their teachers and their peers, based on mutual respect and the value of everyone's opinion. In a Rights Respecting school children are treated as equals by their fellow pupils and by the adults in the school.  Children and young people are involved in how the Award is implement in the school but are also involved in strategic decision-making; in decisions about their learning; and in views about their well-being.
Children become active and involved in school life and the wider world
This builds their confidence to make informed decisions. They have a moral framework, based on equality and respect for all that lasts a lifetime, as they grow into engaged, responsible members of society. Children and adults develop an ethos and language of rights and respect around the school. Rights and principles of the Convention are used to put moral situations into perspective and consider rights-respecting solutions – this all has a huge impact on relationships and well-being. Children and young people get very involved in raising awareness about social justice issues, both at home and abroad. They become ambassadors for rights and take part in campaigns and activities to help to bring about change. 
To find out more about this award click here.
RRS Displays
Every year group in school took part in our Rights of the Child work to create a whole school display. Click on the image for a larger view.
Article of the Month
We discuss a different 'Rights Respecting Schools' article in our classes each month. Click on the links below to see what we have been discussing recently: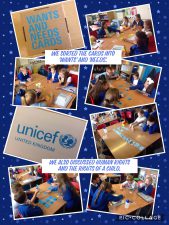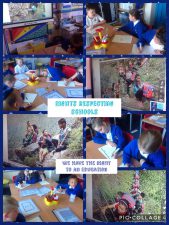 ShoeShare
We hosted a ShoeShare collection in partnership with Unicef and Clarks.
Unicef and Clarks have worked in partnership since 2008 to help keep children safe. In that time, Clarks have contributed to transforming children's lives through ShoeShare, gathering old or unwanted shoes at collection points in more than 500 Clarks stores across the UK. To date the partnership has raised an incredible £1,000,000.
Mersey Park Primary School managed to collect 132 pairs of shoes which where then taken to a Clarks store. For every tonne of shoes collected, a donation is made to Unicef which goes towards education programmes around the world.
Thank you to everyone who donated, it was very successful at our school and these shoes will go towards the tonne of shoes needed.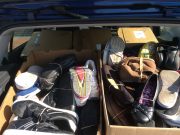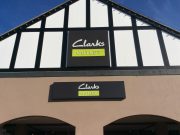 OutRight Campaign
We supported the UNICEF OutRight campaign which is focused on air pollution and the right to a safe, clean environment. Our air pollution monitor, which was  installed outside school for 3 weeks, was sent to UNICEF for analysis. The results showed that we are in an area of high pollution and they gave advice about how we could compensate for this.  We have purchased plants for inside the school building and have planted trees along the fence between upper playground and the carpark.  The funds for this were gained through the Eco Committee's work with the Royal Horticultural Society.