Book Bus Visiting School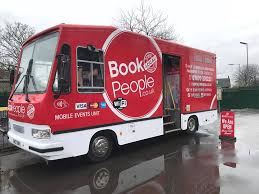 We are delighted to announce that 'The Book Bus' will once again be visiting our school on Monday 9th December 2019.
During the morning, children will have the opportunity to visit the bus and purchase a book if they would like to.  Between 1.30pm and 3.00pm we are holding a Christmas Shopping Session and opening the Book Bus for parents, carers and family members - please enter via the school office.  This will give you an ideal chance to do some extra Christmas shopping (away from prying eyes!)  The bus will then reopen at 3.15pm until 4.00pm for the last session (please note that all children must be accompanied by an adult during this session).
To avoid too many people visiting the bus after school we would ideally like the children to purchase their own books when their class visit the bus during the morning.  There is a great range of books from just £3.00 with lots of choice around the £5.00 to £6.00 mark.  The Book Bus have rounded all their prices to the nearest pound and ask that you try to send in the correct money.  The flyer attached to your letter should give you an idea of some of the items for sale.
If you would like your child to choose and buy their own book, then please send in an appropriate amount of money on Monday 9th December.  Please put it in an envelope with the child's name, class and how much money it contains.  This should be handed to the teacher at the start of the day.  If you would rather choose a book with your child, then please visit the bus at the end of the school day in middle playground.
With thanks for your support as always.  Please remember that any purchases will help to provide additional books for our classrooms.
ggg