Covid19 Support
We are working hard to ensure you have enough home learning resources for your child in the upcoming weeks. The year group pages will be updated on a regular basis. Click below on your child's year group to access resources you can use at home:
Wirral Food Bank
Please click here for up-to-date information about the support that can be provided.
Looking after yourself, looking after your children
There is a lot of uncertainty around the current COVID-19 outbreak, particularly given that the situation is constantly developing and the information about the virus remains incomplete.
Understandably, this is causing a lot of worry and anxiety for people.  Having children and young people at home, often when people are trying to work themselves, adds another layer of stress.  It is therefore important to not only consider our physical health during such challenging times, but also to pay attention to our mental health.  It is normal to feel worried, stressed and anxious when we are faced with uncertain situations, but the sooner we acknowledge and learn to take care of our mental health, the healthier and better equipped we'll be to cope with the situation we're having to face. Click here to view 'The Wirral Plan' and suggestions for parents.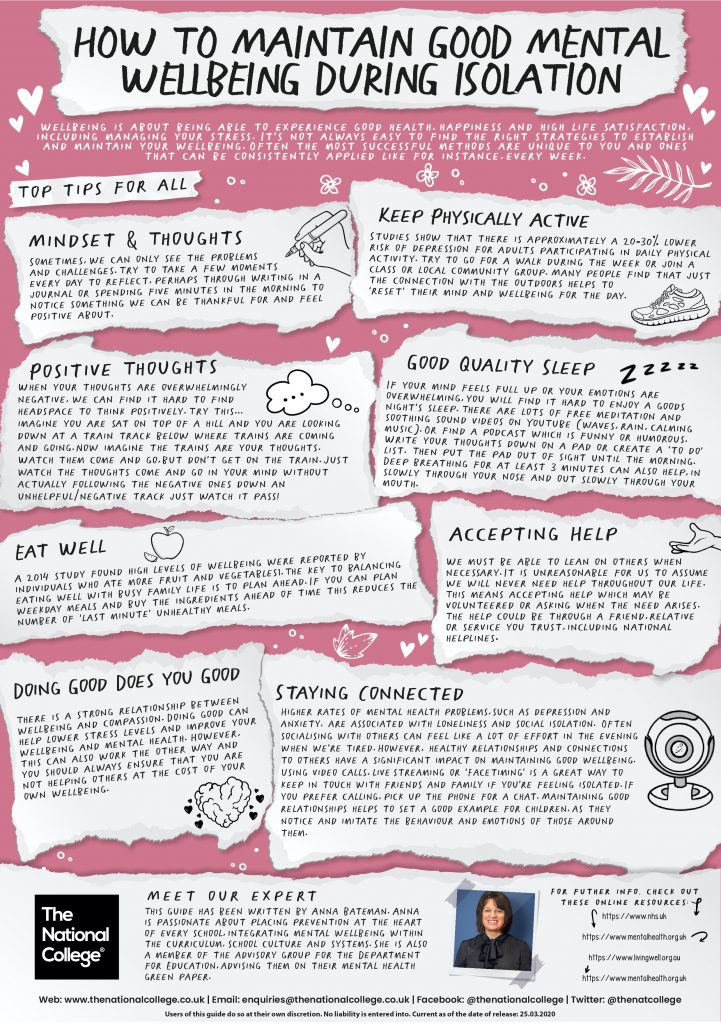 Support with Mental Health
Support from CAMHS (Child and Adolescent Mental Health Services):
CAMHs advice line continues to remain available if parents or young people need some extra advice or support:
0151 488 8453
(Mon- Fri 9am- 10pm, Weekends 12 noon- 8pm, Bank Holidays 5pm – 10pm)
Coping with Covid-19 –  https://www.mymind.org.uk/coping/coping-with-covid-19-coronavirus/
Useful advice on the following:
Anxious about Coronovirus
Self-isolation
Social Story – to help alleviate fears and anxiety
Place2Be resources – Useful information to help you support your child
Young Minds
YOUNG MINDS TOP TIPS FOR PARENTS
Young Minds mental health and self isolating
Thumbs Up
Mental health support throughout Wirral and the UK, delivered through Facebook Live streaming at regular intervals over the time the schools are closed. Please click here to be redirected to their Facebook page.
Resources from Educare
Supporting Children with Loneliness
Supporting Children with Anxiety
Keeping Your Children Safe Online
With children accessing much of their learning online, and having more time during the day to play on their devices, it is important that parents/carers are checking that children are remembering the rules of how to stay safe online.  These are the sites that we would recommend to parents regarding online safety:
Be Internet Legends
This website provides online activities for the whole family to help children be safe and confident explorers of the online world.  Interland is an interactive game that consists of completing online challenges in four zones (https://beinternetlegends.withgoogle.com/en_uk):
Kind Kingdom – Respect each other
Tower of Treasure – Secure your secrets
Reality River – Check it's for real
Mindful Mountain – Think before you share
More advice can be found on the e-Safety pages in the parents section of the website https://merseyparkprimary.co.uk/parents/e-safety/ and the children's section https://merseyparkprimary.co.uk/pupils/e-safety/.
Support for Carers of Children Looked After
Please click here for Guidance for families of school children currently learning at home

SEN Support:
Below is also a link to an ADHD support Guide:
Support your child with ADHD during school shutdown
Talk about Town
Speech and Language Therapy advice to support pupils at home:
General Strategies
Apps for Speech and Language
Support for Pupils Learning English as an Additional Language
These sites offer free home learning which will really benefit children learning English as an Additional Language, for early stage learners particularly:
Learn English Kids: http://learnenglishkids.britishcouncil.org/en/
BBC Bitesize: www.bbc.com/education
ELSA
We have put together some resources from our ELSA (Emotional literacy support assistants) programme we use in school. Please click on the links below for activities to help support your child's well-being at this difficult time:
Support for Parents/Carers
Educare are providing free support for parents/carers on a range of topics including:
Dealing with Bereavement and Loss
Mental Well-being
Food Hygiene and Safety
Low Mood and Depression
Healthy Lifestyles
Changing Bodies
Understanding Anxiety
They can be accessed at https://www.educare.co.uk/edusafe-pc
Explaining Covid-19 to Children
Below are some resources to support you as parents/carers at home:
'Coronavirus: Keep it simple, stick to facts – how parents should tell kids': https://www.bbc.co.uk/news/uk-51734855
What's Going On? A picture book to explain Covid-19 to younger children: https://www.flipsnack.com/CSKidsBooks/what-s-going-on.html
What's Up with this Coronavirus? a comic by Elise Gravel to teach kids about the COVID-19 situation.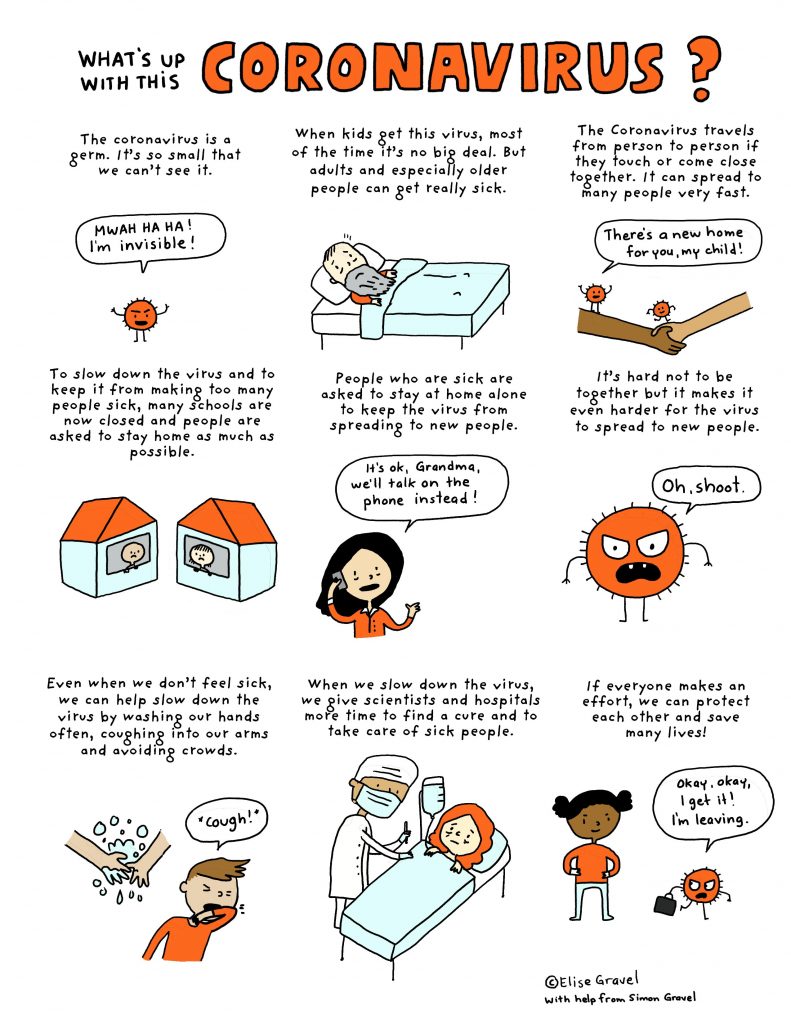 Gaspard and the Quiet Day:  A comforting way of explaining the current situation to young children. A video of a special story written by Zeb Soanes and illustrated by James Mayhew, it is both thoughtful and reassuring. https://www.youtube.com/watch?v=CR9Crv7DGbc&feature=youtu.be
Supporting young people through disruption:
Thank you again for your continued support, this is such a challenging time for us all. We wish you and your families good health in the difficult weeks ahead.