Eco Council
We have a very successful Eco Council who lead eco activities in our school. Our Eco Council meet regularly to discuss ways to reduce, reuse, recycle and to protect our environment.  They work to achieve our eco action plan and raise awareness of green issues within school. This gives our children the chance to discuss ways to make our school kinder to our planet.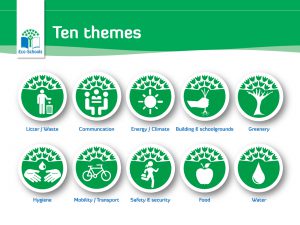 Each class elects an eco warrior to represent the class for the year and they take part in activities such as planting, tidying up the school grounds and the park and generally having outdoor fun! We have been rewarded for all our Eco hard work by being given the Bronze Eco Award.
Meet the Eco Team:
Below are a few photographs of the Eco Team taking part carrying out some of their important activities. You are doing a great job, keep it up!