Play Leaders
Year six pupils are offered training to become a Play Leader, to support the work of the Mid-Day Assistants who work with the younger children during lunch time.  Here are their thoughts about 'What is the Job of a Playleader?' and 'Why Does School Have Play Leaders?' which they work on each year in their training session. Click on the image if you would like to make it larger.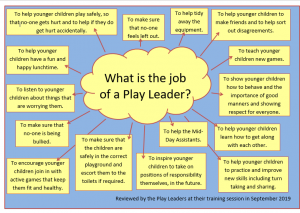 This is the school's 'Play Leader Job Description':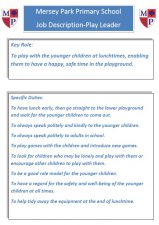 Mrs Jones and Mrs Cheung, the lower playground Mid-day Assistants, have led training for our Play Leaders, supported by Mrs Tootell, the Deputy Head. Here are some of our Play Leaders enjoying their role at lunchtime.
The Key Stage 1 pupils were interviewed by Mrs Cheung and Mrs Tootell to find out whether they liked playing with the Play Leaders. These are some of the things that they said:
'I look forward to seeing the Play Leaders.'
'They teach us new things that we can do when we are Play Leaders.'
'They are fun!'
'They make me feel happy!'
'They are kind and they look after you.'
Each Friday Mrs Jones and Mrs Cheung choose one of the Play Leaders to receive a certificate in our Awards Assembly. Who will get Play Leader of the week in awards assembly this week?