RHS Award of Garden Merit
The Award of Garden Merit is a long-established annual award for plants by the British Royal Horticultural Society. It is based on assessment of the plants' performance under UK growing conditions.
Our school has been awarded 'The award of Garden Merit (Level 4)' in November 2018!
What Does Our School Do?
In Foundation Stage playgrounds, the staff and pupils have been growing fruit and vegetables for a couple of years now. They have been enjoying finding out about growing potatoes in sacks and planting gooseberry bushes.

Last year, a raise bed in Middle Playground was used by older pupils to grow a range of fruit and vegetables. These included: peas, sweetcorn, strawberries, spinach, tomatoes and herbs.  Children were supervised while planting bedding and harvesting, and a small team were given the responsibility of watering daily.

In October 2017, we took part in 'The Big Soup Share'. We used some of the produce (spinach, sweetcorn, mint, peas) to make soup – every Year 3 and 4 pupil helped peel, cut and prepare the soups and then we all had the opportunity to taste them. Most children loved the soups and we would definitely like to take part in took pare Big Soup Share again in 2018.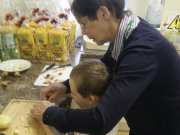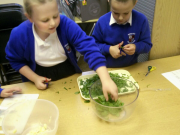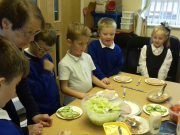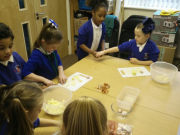 We have our very own Gardening Club for our Year 1 pupils. The children have really enjoyed learning all about gardening and having a go themselves.
In May 2018, we planted out some fruit and vegetables in our new plot on upper playground. We had so much fun and love watching all the vegetables grow. We also have our compost bin too!
Our future plans include:
rain water butts

the development of our school allotment