Whole School Events
Whole School Events news...
Comic Relief 2019
This year we wore odd socks for Comic Relief and all donated £1. We were even given the opportunity to enter a joke competition for 50p. All money raised was donated to charity. Take a look at some of our funky socks below:
---
British Science Week
On Thursday the whole school were lucky enough to take part in the Silly Science Workshops as part of British Science Week. It was so exciting, take a look:
---
Reading Rainforest Grand Opening
The Chester Zoo rangers have officially opened our 'Reading Rainforest'. We have turned our library into a Rainforest after learning about animals that live in the Rainforest. We have promised to try our best to use sustainable palm oil.
---
KS1 World Book Day Parade
To celebrate World Book Day children dressed up in a hat or a T-shirt of their favourite books. Everyone had made such an effort with their outfits and we enjoyed working out which books they had dressed as. KS1 and F2 met in the hall for a costume parade to show off their creative outfits.
---
Spanish Day
We had a fabulous day on Thursday 17th January. We carried out a range of Spanish activities throughout the day. The children created artwork based on the Spanish artist Juan Gris and also carried out some Flamenco dancing. The children especially enjoyed cooking and tasting Spanish food. The croquetas and Tortillas were scrumptious!
---
Homework Highflier Reward
The Homework Highfliers enjoyed their 'Cinema Experience' on Friday. They watched Christmas Chronicles with popcorn. What a treat! Well done for completing your homework everyone!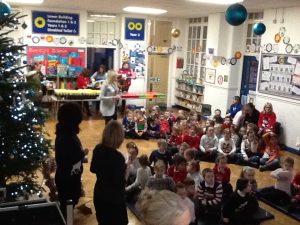 ---
Fitness Friday
We had a fabulous Fitness Friday. We all came to school dressed in our sportswear and did lots of fitness activities throughout the day. We started the day by carrying out a 'Wake Up Shake Up'! Take a look below:
---
Anti Bullying Production
Altru Drama Company came to our school to put on a performance for Anti Bullying Week. The performance taught us all about respect. We learned so much and it was also very fun! Take a look at some of the pictures below:
---
Children In Need 2018
What a wonderful day we had for Children In Need. All the children brought in £1 to wear something either spotty or yellow. The children also had the opportunity to buy a cake at playtime for 50p. The children also had the chance to pay 50p to enter a colouring competition. There were three winners across the school. Thank you everyone for your generous donations.
---
Remembrance 2018
Our Remembrance Assembly was very special. Each class did a little something to remember all the people who gave their lives for us today. We are so proud of all the children. Thank you everyone.
---