Whole School Events
Whole School Events news...
Harvest
What an exciting harvest festival this year! We didn't come to school in our usual uniforms, but instead dressed up as fruit and vegetables. We had a lovely assembly to celebrate, as each class either sang a harvest song or performed a harvest poem. Thank you everyone for your generous harvest donations for the food bank. Can you guess what we are?
---
Trophy Assembly
We thoroughly enjoyed celebrating the children's successes during trophy assembly. One child from each class was chosen for their achievements last half term. Well done to you all. You should be very proud of yourselves!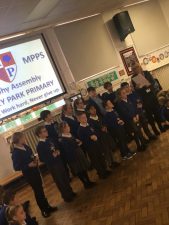 ---
Mrs Moore and Mrs Smith's Special Assembly
Good luck Mrs Moore! Mrs Moore is retiring after working 28 years in our school! Thank you also to Mrs Smith who has volunteered at our school for 25 years! We had a special assembly to celebrate their time at Mersey Park Primary School. Each class either performed a poem, sang a song or created some artwork for Mrs Moore and Mrs Smith. We know they had a lovely time at our special assembly
---
Royal National Lifeboat Institution Assembly
KS1 learned how to stay safe at the beach with a special assembly from RNLI. They taught us about the different flags to look out for on the beach this summer. Year 2 continued their work on water and summer safety by spotting the dangers at the beach and creating their own summer safety posters. We all hope everyone stays safe at the beach!
---
KS1 Vocabulary Parade
We had a fantastic day celebrating our love of wonderful words. We celebrated with a showstopping parade. Take a look at all our amazing costumes below. Can you guess which words children have dressed up as?