Year 2
Welcome to Year 2!
The staff in Year 2 are:
We would like to welcome the parents and pupils starting in Year 2 to meet the staff and find out a little more about how the year will run. Enjoy our presentation:
Click below to view the latest curriculum overview
Mersey Park Half Term Overview Year 2 Autumn 2
Covid-19 Support
Please click the following links for support during Covid-19:
Useful information:
Click here to view the Long Term Overview for Year 2 (2021-2022).
Toast money (50 pence per week) should be paid on parent pay or brought into school in a labelled envelope at the beginning of each half term.
Homework and PE Timetable:
| | | | | |
| --- | --- | --- | --- | --- |
| Monday | Tuesday | Wednesday | Thursday | Friday |
| P.E. | | | | |
| Homework given out | | | | Homework to be returned |
| Spellings given out | | | | Spellings to be returned and tested |
| Reading books will be sent out | | | | Reading books to be returned |
If your child has misplaced their spelling homework please click on the right link below to print another copy:
Mrs Inman/Mrs Robertson     
 Ms McGinn 
  Stage 2 Spelling Shed   
rain

train

sail

day

spray

crayon

came

take

escape

made

chin

rich

chop

much

ship

fish

shell

the

was

said

knock

know

knee

knit

knew

knight

gnome

kneel

gnat

gnaw
Year 2 news...
What amazing Purple Mash work!
Wow Year 2! Miss McCulloch and Mrs Inman are amazed by the work you are completing on Purple Mash. Here is a snapshot of some of the pieces we like. Thank you to Inarah, Evie, George, Poppy, William, Bradley, Kailan, Ethan, Jacob, Noah, Ashton, Alfie, Imogen, Joel, Jorgie, Jacob, Minindu and Isaac for these:
---
New Islander Family Tree
Your next challenge for the Islander you have created for the Isle of Struay is to create their family tree. Below are a few ideas of ways to display this. Think about why your Islander has moved to the island and how hey are connected to others already on the island.
---
Spring Life – Newts and Frogs
Thank you very much to Evie and her family who have sent through some great photos of frogs, newts and a newt tadpole and a video of a newt that has grown in their garden pond! Enjoy looking at them Year 2.
What can you find out about newts? What other animals are they most like? What is their ideal habitat? What do they eat? Can you draw their lifecycle?
---
New Islander Factfile
Last week we challenged you to sketch a new Islander for the Isle of Sruay. Can you now use your knowledge of Scotlànd, islands and your imagination to write a factfile about them. Remember to include:
Name
Age
Job
Looks
Personality
Where they live on the island
Why they chose to move to the island
Good luck and we look forward to reading about them!
---
Imaginative Writing
Hello Year 2, we hope you're managing to keep yourselves entertained at home. Here's a lovely website you could take a look at: https://www.pobble365.com/ then use your workbooks to do some of the writing activities based on the picture.
---
New Maths Task
Hello! Hope you are all keeping safe and managing to get some fresh air on your daily exercise.
We thought we'd give you an extra Maths challenge given you've all been enjoying the fractions work so much. So here is a little set of questions to get you thinking:
---
Yoga Stories
Hello Key Stage 1 and Foundation Stage!
We hope you are managing to keep yourselves busy while you're at home. In case you want a change of Yoga activity from Cosmic Kids here is a great set of Yoga Stories. Choose one and you can read the book as well as complete the Yoga poses:
---
Island Adventures: New Character
Using the CBBC Katie Morag programme The Island Tour of Struay can you answer these questions?
Who does Katie Morag live with?
What jobs do Katie's mum and dad do?
Which Grannie lives on the island and where does she live?
What is Grannie Island's job?
Who makes Katie laugh more than her grannies?
Where did the wedding happen?
What animals does Kate enjoying seeing?
Can you create a new character that might live on the island? Try drawing a sketch of them.
---
PE with Joe
Hope you are finding ways to keep fit at home. I have been enjoying doing PE with Joe each morning with my two boys. Here's a picture for you to see. Who can complete the 30 minute workout each morning this week?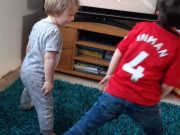 ---
What a busy time in Year 2!
Wow, we have been busy the last two weeks, the highlights include:
a visit for our Science topic from a real life baby boy
World Book Day, sharing our favourite bedtime stories
Smarties based Maths lessons
using digital maps to locate our school and local landmarks
assemblies from a visitor about attendance
---