Year 2
Welcome to Year 2!
The staff in Year 2 are:
We would like to welcome the parents and pupils starting in Year 2 to meet the staff and find out a little more about how the year will run. Enjoy our presentation:
Click below to view the latest curriculum overview
Mersey Park Half Term Overview Year 2 Spring 1
Mersey Park Half Term Overview Year 2 Spring 2
Covid-19 Support
Please click the following links for support during Covid-19:
Useful information:
Click here to view the Long Term Overview for Year 2 (2021-2022).
Toast money (50 pence per week) should be paid on parent pay or brought into school in a labelled envelope at the beginning of each half term.
Homework and PE Timetable:
Mrs Inman 
| | | | | |
| --- | --- | --- | --- | --- |
| Monday | Tuesday | Wednesday | Thursday | Friday |
| P.E. | | | | |
| | | Homework to be returned | | Homework given out |
| | | Spellings to be returned | | Spellings to be tested and next week's spellings given out |
| | | Reading books to be returned | | Reading books will be sent out |
Year 2 news...
Talk for Writing
In Year 2 we love writing stories. We realise a great way of becoming a skilled story writer is to adapt ideas that have already been created. We use Talk for Writing to act out and redraft famous stories before writing our own versions.
---
What's the time, Year 2?
If you're ever stuck when telling the time speak to Year 2. They have been showing great skills when using the clocks to recognise time to 15 minute intervals.
---
Katie Morag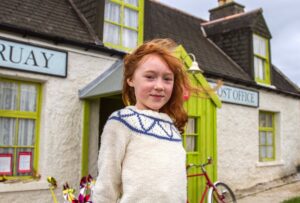 Do you know who this popular character is?
How many of her adventures can you talk about?
Who is the author that writes all these stories?
Where do you think authors get their ideas from?
---
Island or Mainland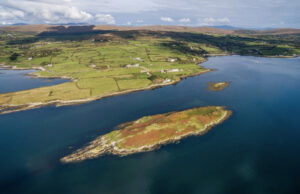 Would you rather live on an island or on the mainland?
What are the advantages of living on an island?
What are the disadvantages of living on an island?
---
Living Things
Which animals can you spot in the pictures?
What is a habitat?
Can you explain why they are suited to living in their habitat?
Which of our food stations do you think would attract the most birds?
---
The Tiger Who Came to Tea
We are enjoying our first Literacy Spine book – The Tiger Who Came to Tea by Judith Kerr. We have worked on character descriptions, identifying and describing different foods using our senses and are currently writing our version of the story. Here's a few highlights: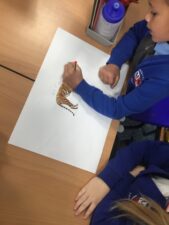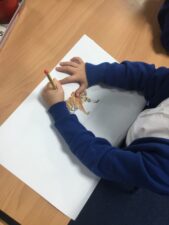 ---
P4C and Growth Mindset
We have been enjoying our lessons on Growth Mindset and have used them to have a number of P4C discussions on questions raised. We have worked together to think about our worries, our goals and setting ourselves targets.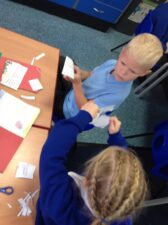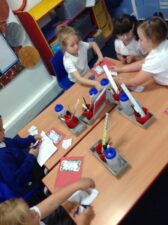 ---
Democracy
Year 2 have spent September thinking about the British Value of Democracy. We realised this was each having a say and the chance to vote for those we think would be good in certain roles. We took part in three votes for the roles of e-Safety Cadet, eco-committee member and PCG representative.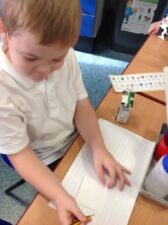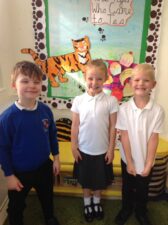 ---
Home Learning Timetable
Click below to see an example daily timetable for Home Learning.
---
Talking Time Detectives
Can you become talking Time Detectives Year 2?  Find someone in your family, a grandparent, aunt, uncle or your own parents who has time to talk to you about what their classroom was like when they were at school. What did they use to write with? What was up on their classroom walls? Did they read nice, colourful books like we do? Were they able to use an iPad or laptop to do a computer lesson? How did they complete Science experiments?
---