Year 2
Welcome to Year 2!
The staff in Year 2 are:
We would like to welcome the parents and pupils starting in Year 2 to meet the staff and find out a little more about how the year will run. Enjoy our presentation:
Covid-19 Support
Please click the following links for support during Covid-19:
Useful information:
Click here to view the Long Term Overview for Year 2 (2021-2022).
Toast money (50 pence per week) should be paid on parent pay or brought into school in a labelled envelope at the beginning of each half term.
Homework and PE Timetable:
| | | | | |
| --- | --- | --- | --- | --- |
| Monday | Tuesday | Wednesday | Thursday | Friday |
| P.E. | | | | |
| Homework given out | | | | Homework to be returned |
| Spellings given out | | | | Spellings to be returned and tested |
| Reading books will be sent out | | | | Reading books to be returned |
If your child has misplaced their spelling homework please click on the right link below to print another copy:
Mrs Inman/Mrs Robertson     
 Ms McGinn 
  Stage 2 Spelling Shed   
rain

train

sail

day

spray

crayon

came

take

escape

made

chin

rich

chop

much

ship

fish

shell

the

was

said

knock

know

knee

knit

knew

knight

gnome

kneel

gnat

gnaw
Year 2 news...
The Tiger Who Came to Tea
We are enjoying our first Literacy Spine book – The Tiger Who Came to Tea by Judith Kerr. We have worked on character descriptions, identifying and describing different foods using our senses and are currently writing our version of the story. Here's a few highlights: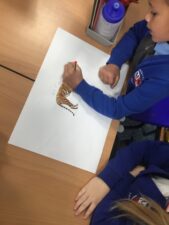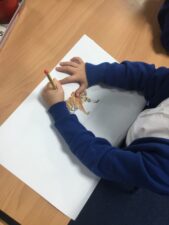 ---
P4C and Growth Mindset
We have been enjoying our lessons on Growth Mindset and have used them to have a number of P4C discussions on questions raised. We have worked together to think about our worries, our goals and setting ourselves targets.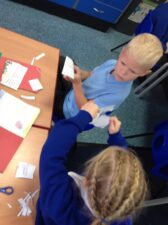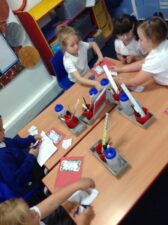 ---
Democracy
Year 2 have spent September thinking about the British Value of Democracy. We realised this was each having a say and the chance to vote for those we think would be good in certain roles. We took part in three votes for the roles of e-Safety Cadet, eco-committee member and PCG representative.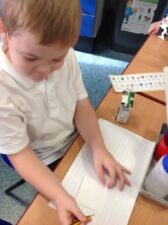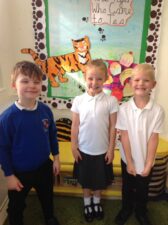 ---
WOW!
A big thank you to NEO for your food donations.
---
Home Learning Timetable
Click below to see an example daily timetable for Home Learning.
---
Talking Time Detectives
Can you become talking Time Detectives Year 2?  Find someone in your family, a grandparent, aunt, uncle or your own parents who has time to talk to you about what their classroom was like when they were at school. What did they use to write with? What was up on their classroom walls? Did they read nice, colourful books like we do? Were they able to use an iPad or laptop to do a computer lesson? How did they complete Science experiments?
---
Now and Then
Can you compare what schools used to be like around 50 years ago compared to what your school is like today? Perhaps create a grid or a chart, with either pictures or words to show the two eras. You can find out about this on the Internet, using the memories page on our school website (https://merseyparkprimary.co.uk/about-us/memories/) or by asking people you know who were at school then. Find out about school dinners, uniform and the lessons that were taught.
---
When I was…
As part of our Time Detectives work we would like you to do some speaking to your adults. Can you find out how old you were when you learnt to do each of these things?
crawl
walk
feed yourself
dress yourself
ride a bike
swim
brush your teeth
talk (and what were your first words?)
started school
first wrote your name
Now, create a timeline for these key milestone steps you have taken. Keep it neat and make it colourful!
---
75th Anniversary of VE Day
Friday 8th May marks the 75th Anniversary of VE Day. This was a huge day in history and we think it is important you understand why. Please watch this clip explaining about VE Day:
Now complete one of these challenges:
The two VE Day 2Dos set on Purple Mash – but they will only be there on Friday!
Create some bunting to decorate your house.
Discuss with someone in your house why you think it is important to still remember VE Day.
Here's some bunting designed by one family: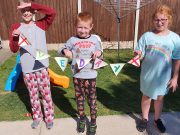 Well done to those who completed the VE Day Purple Mash activities. Here's work from Imogen, Ashton and Jacob:
---
Celebrating Paper based Work!
As well as the work being done on the Computers and Purple Mash we wanted to celebrate your achievements with paper based activities. So thank you to the children who are sending photographs to us through the school office and who are returning packs to school. Here's work completed by Evie, Jacob, Joel, Bradley, Ethan, Keeley and Ashton so far!
---