School Council
Our school council for the academic year has been chosen, each class chooses one child to represent them through a democratic process. They meet regularly to discuss a variety of issues and they all greatly enjoy this important role and responsibility within our school.
Meet our School Councillors: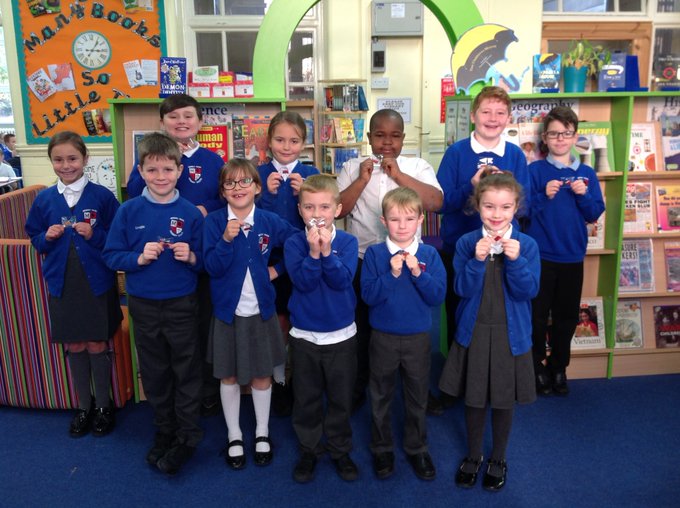 A few years ago, school council were invited, along with other local primary schools, to attend the opening of St Catherine's Hospital.  There they met Prince Edward. Click here to see the pictures from the day.
During democracy week, each class (from Year 1 – 6) voted for who they wanted to be their school council representative. Here are some photographs of the voting process in different year groups:
In our school council meeting, we help Mrs Aldiss with her health and safety checks on the school. So far, our school council reps have spotted and reported 3 items around school which needed repairing. Mrs Aldiss reported back to school council about which have already been fixed, and which are in the process of being fixed. Well done school council for helping to keep our school safe. Keep up the good work!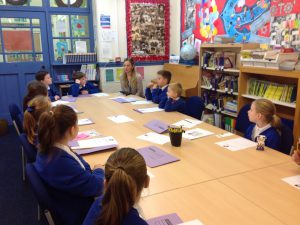 Charity
Work
Each year we support three national charitable causes, Children in Need, Sport Relief and Comic Relief. This helps raise lots of money and gives all pupils a chance to dress up, have fun and support these worthy causes.
What an amazing job school council did organising and raising money for Children in Need last year. We have recently been named as a 'Loyal Supporting School' as we were in the top 500 of 17,000 schools who fundraised for Children in Need in 2016. Well done school council.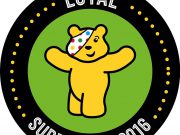 Children in Need is taking place on Friday 16th November 2018. Once again, we will be supporting this charity as a whole school. The school council reps have been busy asking their classes for ideas on how we could raise money for this fantastic cause. All ideas were written down, a shortlist was compiled and the school council voted for their favourite 3 ideas.
This year, we will be raising money by having a yellow/spotty non-uniform, a cake sale, and a colouring/design competition. More news to follow.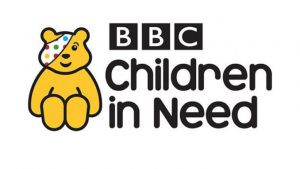 We also support The Rotary Shoebox Appeal at Christmas time by asking parents for donations and then packing nearly 50 boxes with essential items and goodies. Our photograph has even appeared in the Rotary Club newsletter some years!
Click here to find out about the shoe box appeal this November 2018!
School council have been busily organising the shoe boxes for the Rotary club with a range of fantastic gifts.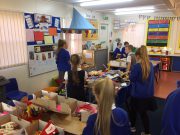 Thank you to all the children and their families who kindly donated gifts to fill the shoe boxes with Christmas gifts. The boxes were sent to children across Eastern Europe who otherwise might not receive anything on Christmas Day. Well done to school council for organising and promoting such a fantastic cause!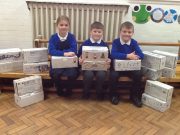 Our KS1 School Council members always enjoy getting covered in oats and glitter making magic reindeer dust with Mrs Smith, which is always a sell out at our school fair. This helps to raise money for our school.
Other Roles
Following concerns from our governors, the children created signs to remind parents about parking safely around our school. These were displayed outside middle playground. Our school council also got to meet with Mrs Maher and find out about the role of the governing body.
Through our meetings the children have a brilliant opportunity to voice their ideas and opinions. They enjoy telling us what they love about Mersey Park but are also keen to suggest improvements and changes for our school.
If you have an idea that you would like to be taken to school council remember to tell your representative so they can bring it up at a meeting. If you're not sure who your representative is then ask your class teacher or look on the school council boards around school.