Family Support
At Mersey Park we take the care of our children very seriously. In order to care for them we also try to support family members. In order to do this we have a designated Home/School Liasion Officer (Mrs C.Hardy) and an Assistant Safeguarding Officer (Miss D.Perkins) – to find out more
click here
.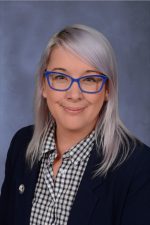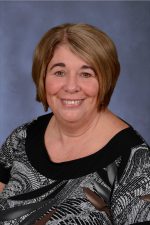 Caritas
Caritas is a service that we pay into to offer support for our families. Andy Antley is our Caritas Support Worker.  Andy will work one-to-one with families to enhance parenting skills, add

ress child/young person's behaviour, provide support where there are emotional/mental health concerns and where there is risk of family breakdown, either in the family home, at school or any suitable, safe venue identified by the client if this is considered appropriate.
The benefits to the family include:
improved self-esteem,
better communication of feelings and thoughts, of knowing how to look for compromise and keep each other safe,
increased confidence in dealing with difficult and risky situations,
seeing your children and young people happy, motivated and achieving,
feeling better – both mentally and physically,
less reliance on outside services – but the awareness of how and when to access them.
Please contact Mrs Hardy, via the school office, if you feel you would like some support from this service.
Welcome Sessions
The Family Support team here at school are now offering Welcoming Sessions to all family members that would like to drop in on a Wednesday afternoon between 1pm and 3pm. They will assist and signpost you to extra family support, housing, welfare, benefits or debt advice as well as an array of other things. Click here for more information:
Health & Well-being Hub
If you would like to pop in to the Wirral Health & Well-Being Hub for support and guidance Wirral's 0-19 team is offering weekly drop-in clinics for school
aged children, young people and their families. Find out more on the flyer below:
Wired Carers
We receive lots of information about free sessions to support the whole family rather than upload them all individually you can follow the link below to see which might be useful for your own situation.
http://www.wired.me.uk/Carers-support.asp
If you would like to attend any of these sessions you will need to book a place by calling The Wired Carers Helpline on 0151 670 0777.
Child Exploitation
If you would like more information about Stopping Child Exploitation please click here to read a leaflet from Pace (Parents against Child Exploitation).
By clicking here you can access a leaflet from the NSPCC to help you, as parents and carers, talk to your children about staying safe using the acronym PANTS.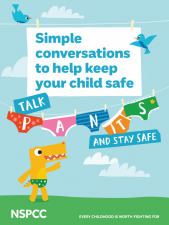 Wirral Lifelong Learning
We have also received information from Wirral Lifelong Learning about courses running locally. If you would like more information below is a copy of the letter we have sent all our parents and carers or you can follow the link through to the Wirral Lifelong Learning website to see their full list of courses:
Wirral Lifelong Learning Parent Courses letter
Wirral Lifelong Learning Website
St Catherine's Community Centre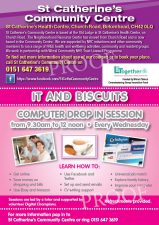 Here is a Free IT & Biscuits session that is
happening at St Catherine's every Wednesday!
---
Useful Links
Gov.uk has written guidance including Covid-19 support for victims of domestic abuse.
Healthwatch has built a Directory of Services that work with Wirral residents. It's very easy to use and covers a wide range of issues that people may need help with.
My Mind
An NHS website run by CAMHS developed for everyone interested in the mental health and well-being of children and young people across Wirral and Cheshire.
Wirral Local Safeguarding Children's Board
Website pertaining to children's services with regards to Safeguarding.
Wirral Autistic Society
Information about services offered by the Society.
Caritas
A very useful site offering support for all aspects of family life especially when times are hard and life is a struggle.
The NSPCC
A link to the NSPCC's advice pages.
A guide to help with positive parenting at home.
Home Start Wirral
A useful link to a friendly home based support for families on Wirral.
A useful link for worries about alcohol or substance misuse.
A link providing information about various mental health conditions and self-help resources.
Support and advice for single mums and dads to help meet their family's needs.
A link supporting children through bereavement.
Information and guidance about children and young people's mental health, wellbeing and development.
information and advice to those experiencing troublesome thoughts, feelings and actions.
Resources and information for children and adults whose lives are affected by Obsessive Compulsive Disorder.
Wirral libraries stock a number of books to promote the benefits of reading for health and wellbeing. Click on the above link to find out more.
Information, advice and support for people that grow up with a disabled brother or sister.
Information and real life stories about children and young people's mental health, and ways to get help.
Information for parents and carers about common mental health and behaviour concerns in children and young people.
Support to parents and professionals, including counselling for children/young people. The service also offer training on issues around bereavement and loss.
A well-established activity-based therapy service for young people ages 4-15 experiencing bereavement and loss.
Information and a video to teach children that their body belongs to them and they should tell an adult if they're upset or worried.
Practical resources developed by Wirral Sleep Service, to support families and professionals in encouraging good sleeping habits amongst children.