Spanish
"A different language is a different vision of life" – Federico Fellini
Here at Mersey Park Primary School we believe that the learning of a foreign language provides a valuable educational, social and cultural experience for pupils. Spanish is taught to KS2 by Senor Pena, as part of PPA cover. Each class has one lesson per week.  The topics covered are introduced in Year 3, built upon in Year 4, reinforced and applied in Year 5 and 6, with more depth. The planning is designed to balance elements of  speaking, listening, reading and writing in each topic.  The older pupils also learn more about the grammar of the language, articles and verb tenses.  Topics covered over the year include: Greetings, Routines, Numbers, Colours, Likes and Dislikes, Sports and Leisure and Weather/Seasons.  Lessons are structured  to approach learning in a variety of ways: use of songs and games, matching, reading and writing activities. Year 6 have made contact with a Spanish school and have written letters, in English, to pen pals there. The pen pals will then reply in English. After that our Year 6 will write in Spanish and then receive replies in Spanish.
Mersey Park School- Spanish Curriculum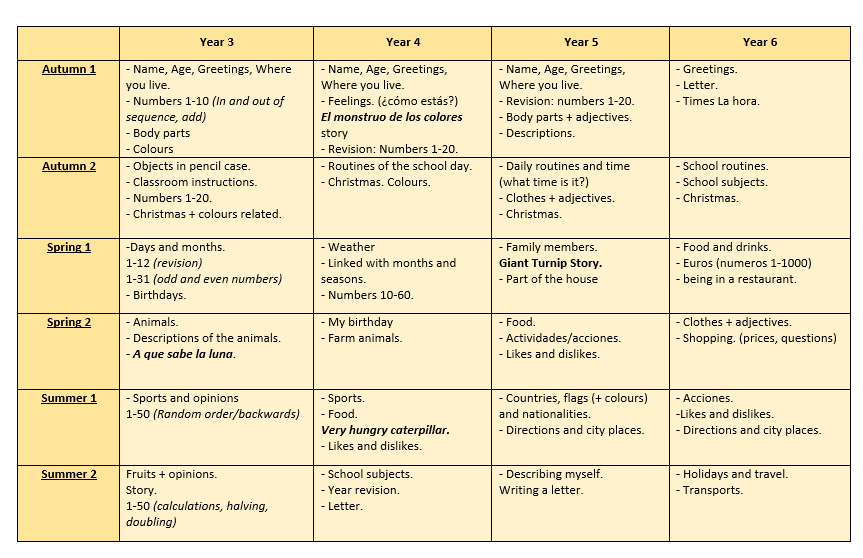 Spanish Day 2019
We had a fabulous day on Thursday 17th January. We carried out a range of Spanish activities throughout the day. The children created artwork based on the Spanish artist Juan Gris and also carried out some Flamenco dancing. The children especially enjoyed cooking and tasting Spanish food. The croquetas and Tortillas were scrumptious!
Enjoy this video of the children singing about the Days of the Month:
Our curriculum allows pupils to develop their communication and literacy skills that lay the foundation for future language learning. They develop linguistic competence, extend their knowledge of how language works and explore differences and similarities between foreign languages and English.
Learning new languages raises awareness of our multi-lingual and multi-cultural world, and introduces an international dimension to pupil's learning. The learning of a foreign language provides a medium for cross-curricular links and for reinforcement of knowledge, skills and understanding developed in other subjects.
FOUNDATION SUBJECT REPORT TO GOVERNORS – SPRING 2018 – SPANISH:
Spanish Foundation Subjects report for Governors.docx