Physical Education
"Physical fitness is not only one of the most important keys to a healthy body, it is the basis of dynamic and creative intellectual activity" – John F Kennedy
Curriculum Coverage
Every year group delivers a curriculum based on the Wirral PE scheme of work. We teach a range of different areas including Gymnastics, Dance, Games and Athletics.  A number of our PE lessons are taught by Premier Sport coaches who specialise in various areas of expertise and are currently teaching Year 3 and 4 this term. A dance specialist from Premier Sport will be teaching Year 5 next half term. In the summer term 2017, Year 2 and Year 6 benefited from the expertise of a qualified gym coach from Total gymnastics, a gym initiative managed by the Olympic gymnast Beth Tweddle. This was a huge success in terms of the children's enjoyment as well as their increased knowledge and skill. The sessions will be continuing later this year with two different year groups.
All children in Year 4, 5 and 6 are taken swimming, each completing a 5 hour block. They are assessed against the National Curriculum standard using the online Swimphony assessment package. 76% of our Year 6 children achieved National Curriculum Level swimming a distance of 25m using a variety of strokes. In Year 4 and Year 6 pupils have the opportunity to take part in outdoor pursuit activities during residential stays at Barnston Dale and Oaklands.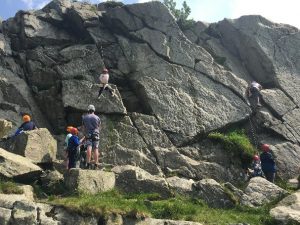 This year we have purchased new P.E. kits for every child in school so that all children can participate in lessons.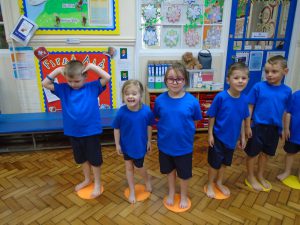 Events
Building on a number of competitions attended last year we have the following tournaments arranged for this academic year:
Premier Sport Competitions
Gym Festival – Tuesday 5th December – 09:30 – 11:30 – Bedford Drive Primary KS1
Athletics/Striking and Fielding – Tuesday 24th April – 09:30 – 14:00 West Kirby Primary Y3/4
G&T Invasion Games – Tuesday 12th June – 09:30 – 14:00 – St Werburghs Primary Y5/6
Fencing Competition – Monday 22nd January – 16:00 – 17:30 – West Kirby Primary Y4/5/6
Cheerleading Festival – Summer 2 Term – KS2
Football Competitions
Premier League schools tournament Liverpool FC
Premier League schools tournament Everton FC
Houlighan Cup Y5&6
Corgi Cup Y4&5
Dance Competition
Wirral Dance Festival – Birkenhead Park School – Wednesday 28th March
The children will also be celebrating Sports Relief in March with a sports fundraising event taking part in a competition against other classes.
P.E. Extra Curricular Clubs- Autumn Term
Monday
Wake Up Shake Up- 8.30am (Year 1- 6)
Fitness- break time (Year 3 and 4)
Basketball 3:15- 4:15 (Year 1 and 2)
Tuesday
Wake Up Shake Up- 8.30am (Year 1- 6)
Dance- 3:15- 4:15 (Year 1- 6)
Wednesday
Wake Up Shake Up- 8.30am (Year 1- 6)
Fitness- Break time (Year 3 and 4)
Dodgeball- 3:15- 4:15 (Year 3- 6)
Family Fitness- 3:15- 4:15 (Year 1 and 2)
Thursday 
Wake Up Shake Up- 8.30am (Year 1- 6)
Football- 3:15- 4:15 (Year 1 and 2)
Football- 3:15- 4:15 (Year 5 and 6)
P.E. Extra Curricular Clubs- Spring Term
Monday
Fitness- Break time (Year 3 and 4)
Multi Skills Gym 3:15- 4:15 (Year 1 and 2)
Tuesday 
Family Circuits- 3:15- 4:15 (Year 1 and 2 )
Wednesday 
Fitness- Break time (Year 3 and 4)
Archery and Fencing- 3:15- 4:15 (Year 3-6)
Thursday
Football- 3:15- 4:15 (Year 1 and 2)
Football- 3:15- 4:15 (year 5 and 6)
FOUNDATION SUBJECT REPORT TO GOVERNORS – SPRING 2018 – PHYSICAL EDUCATION :
PE Foundation Subjects report for Governors.docx