Foundation Stage 1
The staff in the Foundation Stage work hard to ensure that all children feel safe and happy in school. We endeavour to provide the children with an attractive, well-organised and exciting learning environment, both indoors and outdoors, and a wide range of different learning experiences. We also very much value developing strong partnerships with all the families. Please do not hesitate to contact any member of staff should you have any concerns about your child. We look forward to working with you in the future.
The staff in Foundation Stage 1 are:
[
Click below to view the latest curriculum overview
Mersey Park Half Term Overview Foundation 1 Autumn 2
Foundation 1 – Welcome Newsletter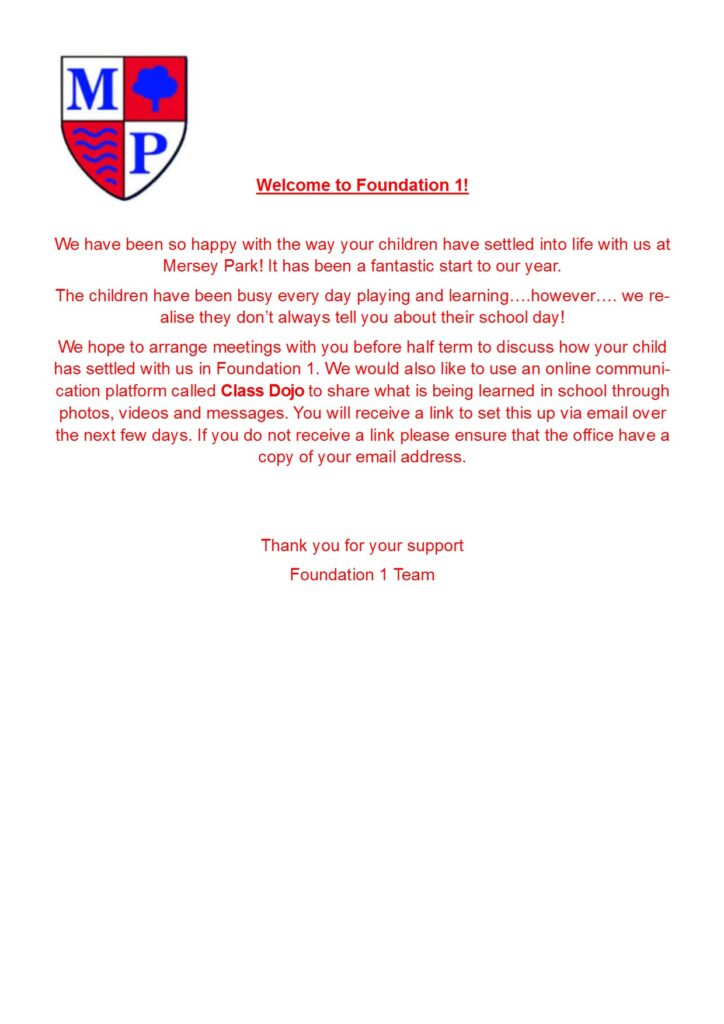 Covid-19 Support
Please click the following links for support during Covid-19:
All your home/school books will be changed on a weekly basis. Please make sure you are returning them as they are a crucial part of communication between home and school.
Story Starters
We are proud to be involved with Story Starters.
Story Starters is a new programme that has been made possible by players of the People's Postcode Lottery. It will make a life-changing difference to the lives of 1,800 nursery children through the support of over 500 volunteers by 2019, ensuring that they start primary school ready to read.
Trained Story Starter volunteers provide caring and fun one-to-one support to children in our Foundation 1, aiding their language development and introducing them to the magic of stories.  Along with the trained, caring support provided by Story Starter volunteers, each child receives high-quality resources from Dolly Parton's Imagination Library so that they can enjoy the magic of stories at home.
Foundation Stage 1 news...
Home Learning Ideas
w/b – 4/1/21
w/b – 11/1/21
w/b – 18/1/21
w/b – 25/1/21
w/b – 1/2/21
w/b – 8/2/21
w/b – 22.2.21
w/b – 1/3/21
World Book Day and Key Skills for back to school
---
Yoga Stories
Hello Key Stage 1 and Foundation Stage!
We hope you are managing to keep yourselves busy while you're at home. In case you want a change of Yoga activity from Cosmic Kids here is a great set of Yoga Stories. Choose one and you can read the book as well as complete the Yoga poses:
---
Well Being Day
On Thursday 24th November, we celebrated 'Well Being Day'. Year groups carried out various activities throughout the day. Some of us had the opportunity to take part in peer massage- this was very relaxing! Others participated in Lego Therapy, which we loved! One class even had a karaoke session- this made us feel GREAT! Thank you Mrs Porter for our wonderful yoga session. It was a relaxing and lovely day at Mersey Park. We loved coming into school in our comfy slippers!
---
Comic Relief 2019
This year we wore odd socks for Comic Relief and all donated £1. We were even given the opportunity to enter a joke competition for 50p. All money raised was donated to charity. Take a look at some of our funky socks below:
---
Fitness Fun Friday in the Foundation Stage and KS1
We started the day off energetically with a wake up and shake up routine. Throughout the rest of the day we have enjoyed different physical activities to help us all keep fit whilst having fun at the same time. We moved our bodies to the beat of a lively song with the help of some of our favourite book characters. Back in our classrooms we have been feeling great and ready to learn with a positive mental attitude.
---
Children In Need 2018
What a wonderful day we had for Children In Need. All the children brought in £1 to wear something either spotty or yellow. The children also had the opportunity to buy a cake at playtime for 50p. The children also had the chance to pay 50p to enter a colouring competition. There were three winners across the school. Thank you everyone for your generous donations.
---
Harvest Costumes
We have made some fantastic harvest fruit and vegetable costumes in Foundation 1. Can you guess what we have dressed as?
---
Teddy Bear Picnic
We enjoyed a delicious picnic to celebrate the amazing time we have had in Foundation 1!
---
Vibrant Vocabulary Parade- Friday 22nd June
This exciting event is a fun way to celebrate our love of wonderful words and varied vocabulary. We are inviting you to come to school dressed as your chosen word with the word clearly displayed on your outfit. During the day we will have a parade, where you will have the chance to show off your costume and we will also take lots of photographs to display around our school.
Please choose a word from your year group's list below. You will notice that most of the words are very challenging. This event will be great fun but it is also a chance for you to hear and learn new vocabulary.
We can't wait to see you in your outfits. Good Luck!
---
A Right Royal Wedding
Foundation One had a super time getting dressed up and we had a street party to celebrate the Royal Wedding.
---