Foundation Stage 1
The staff in the Foundation Stage work hard to ensure that all children feel safe and happy in school. We endeavour to provide the children with an attractive, well-organised and exciting learning environment, both indoors and outdoors, and a wide range of different learning experiences. We also very much value developing strong partnerships with all the families. Please do not hesitate to contact any member of staff should you have any concerns about your child. We look forward to working with you in the future.
The staff in Foundation Stage 1 are: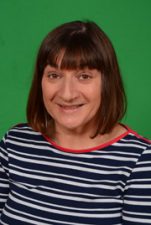 Mrs Forsey F1am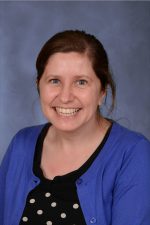 Mrs Williams F1pm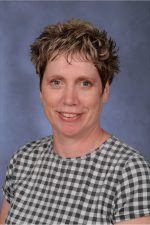 Mrs Walsh F1
Miss Clynch F1
Foundation 1 activities to complete at home:
Looking after Yourself
If you or your child is feeling stressed at this difficult time please visit the Childline Calm Zone for ideas, activities, games and videos to help you and your child keep calm.
Social distancing will takes its toll on all of us and it's more important than ever that we look after our mental health. Yoga and Mindfulness are great ways to promote positive mental health and they can be done indoors without any fancy equipment. Please click here to access Yoga and Mindfulness resources. These sessions are perfect for families to do together to help everyone stay calm and relaxed through this difficult time.
Click the following link for advice for families coping with school closure:
How families can cope with self-isolation
Challenge Yourself!
Below is a link to 14 days of activities for your children. Each activity is hyperlinked to a resource on the ELSA Support website. If you click the BLUE TITLE of each activity it will take you to a page on the ELSA website.
30 Day Coping Calendar
Try to also choose an activity each day to complete from the coping calendar below:
Below is a link to 25 non-screen activities your child could complete at home. Both fun and educational!
Keeping Active
Want to keep active at home? Then click here for free access to home training programmes for all ages.
You can also tune in to 'P.E. with Joe' on his YouTube Channel 'The Body Coach' Monday- Friday 9am- 9.30am.
GoNoodle: Good Energy at Home offers free:
• Movement, yoga, and mindfulness videos
• Downloadable curricular activities
• Recommended off-screen home activities
Click here to sign up.
Up for a short physical challenge? Check out these 60 second challenges:
https://www.youthsporttrust.org/60-second-physical-activity-challenges
Here are some activities for you to try, created in partnership with Complete PE, and you can download any of them from the following link. Find a daily activity by following them on their Twitter @YouthSportTrust.
https://www.youthsporttrust.org/pe-home-learning
Twinkl Resources
Twinkl is a website containing thousands of teaching and learning resources. The website is offering a FREE membership for ALL PARENTS. Please click on the link to sign up and make use of this fabulous resource:
https://www.twinkl.co.uk/sign-up
Hungry Little Minds
Has a wealth of ideas for simple, fun activities that you and your child can do together.  There are sections for  2-3 year olds and 3-5 year olds.
https://hungrylittleminds.campaign.gov.uk/
To Develop Literacy Skills
Sing nursery rhymes.
Read stories and talk about them (They especially enjoy traditional tales eg The Three Little Pigs.)
Draw a picture of everyone in their family.
Write their name.
Listen to Jolly Phonics songs on Youtube. There is a song for each letter of the alphabet.
Look at the website 'Phonics Play' and play the phase 1 games.
Teach your Monsters to Read: Create a monster and take it on an adventure through a magical world. Travel to exciting places, meet fun characters, play games and win prizes as your monster learns the first steps of reading.  The computer version is free.
https://www.teachyourmonstertoread.com/
The Cbeebies Storytime app aims to make reading fun, with playful and imaginative stories designed to help support early years reading. Every story is brought to life with magical things to touch, swipe and play with. There are also questions to help develop comprehension skills, so you and your children can enjoy reading, playing and learning together. For instructions to download the app visit their website below:
https://www.bbc.co.uk/cbeebies/grownups/cbeebies-storytime-app
Storytime 4 Hometime James Mayhew, a children's author and illustrator, is reading a story as he illustrates the story, drawing upside down! A lovely, soothing end to the day at 3pm.  Click here to visit his YouTube channel.
Audible (by Amazon) are instantly streaming  an incredible collection of stories, including titles across six different languages, that will help children to continue dreaming, learning, and just being kids. Click here to read your favourite stories.
Stay at Home Storytime: Oliver Jeffers, author and illustrator, is reading one of his books every weekday on Instagram and talking about some of the things that went into making it. https://www.oliverjeffers.com/books#/abookaday/
National Literacy Trust  Split up by age group, you will find ideas and guidance for simple activities that will engage children at home. You'll be able to access free reading and writing resources, audiobooks, videos, competitions and reading challenges   Visit their website below:
https://literacytrust.org.uk/family-zone/
Nosy Crow Stories: lots of activities, resources, free Nosy Crow books and other content which they hope will help keep families happy
https://nosycrow.com/free-resources
Nosy Crow Stories Aloud: They are also sharing a free picture every day, that you can read as they read it aloud.  https://nosycrow.com/nosy-crow-storytime/
Toppsta create a daily schedule of bookish ideas, which can be found here.
Booktrust:  Lots of lovely interactive books to read online or watch with signing. There are classic children's stories that we think you and your family will love, including Hairy Maclary from Donaldson's Dairy by Lynley Dodd to Owl Babies by Martin Waddell and Patrick Benson, along with newer favourites such as Chris Haughton's Oh No, George! and Everybunny Dance! by Ellie Sandall
https://www.booktrust.org.uk/books-and-reading/have-some-fun/storybooks-and-games/
The Home Time page links to lots of activities where you can play games, win prizes, test your knowledge in book-themed quizzes, or even learn how to draw some of your favourite characters
https://www.booktrust.org.uk/hometime
Storyline Online streams videos featuring celebrated actors reading children's books alongside creatively produced illustrations. Why not listen to a story being read?
https://www.storylineonline.net/
Books for Topics: Need help to find suitable books to buy for your child? Follow the link below:
https://www.booksfortopics.com/homebooks
Oxford Owl: an eBook library, containing over 100 free eBooks. The eBooks have been developed for children aged 3 –11 https://home.oxfordowl.co.uk/books/free-ebooks/
Below is a chart of reading ideas to complete at home:
To Develop Mathematics Skills
Go on a number hunt at home.
Go on a 2D shape hunt at home.
Line up and count cuddly toys or toy cars.
Count how many stairs you have at home.
Listen to Super Simple Number songs on youtube.
Look at the website called 'Crickweb' and play the games for Early Years.
To Develop Physical Development skills
Throw and catch a ball.
Hop scotch.
Run, skip, hop and star jump and balance on one foot.
Try Children's Cosmic Yoga on YouTube.
Use scissors to cut out pictures.
Blow bubbles and try and pop them.
Play pass the balloon to each other.
To Develop PSED Skills
Play dominoes, snap, pairs, and any game that involves taking turns eg Pop up Pirate.
Set the table together/ help wash up the dishes.
To Develop Creative Development Skills
Retell/ act out a story eg Little Red Riding Hood/ The Gingerbread man etc
Paint a picture.
Make a collage pictures using different materials.
Sing favourite songs.
Dance to your favourite music.
To Develop Understanding the World Skills
Bake a cake and talk about all the changes that happen when mixing the ingredients.
Explore which objects float and which objects sink at bath time.
Use pots, pans and spoons for drums and make some music.
Make a musical instrument eg making a shaker using a plastic bottle and some rice or pasta.
Look for signs of Spring outside.
Make an Easter card.
Look on the Cbeebies website for 'Let's Celebrate' (Preparing for and celebrating Easter and find out all about Easter.
Fancy doing something a little different?
Why don't you have a go at entering 'The Secret Garden Competition'? Follow the link below for more details:
schoolgardening.rhs.org.uk/Competitions/The-Secret-Garden
or click here to open the competition entry form.
Or visit 'The Great Indoors' website, which includes a bank of inspired indoor activity ideas to keep your children learning new skills and having fun all in 'The Great Indoors'.
Please click here for more information.
Each week the following website will upload 5 new species, one for each working day, each with a downloadable image and a fact about that day's species so you can learn about the wonderful creatures we share this planet with. Each species features a reference illustration and a downloadable colouring image which can either be printed out or edited on your computer or tablet.
https://www.benrotheryillustrator.co.uk/collections/free-colouring-images
Have a little look at the following photographs for some exciting Forest School ideas:
Don't forget to take photos of your activities and upload them on to Tapestry for us to see.
Many Thanks- the F1 Team
All your home/school books will be changed on a weekly basis. Please make sure you are returning them as they are a crucial part of communication between home and school.
Story Starters
We are proud to be involved with Story Starters.
Story Starters is a new programme that has been made possible by players of the People's Postcode Lottery. It will make a life-changing difference to the lives of 1,800 nursery children through the support of over 500 volunteers by 2019, ensuring that they start primary school ready to read.
Trained Story Starter volunteers provide caring and fun one-to-one support to children in our Foundation 1, aiding their language development and introducing them to the magic of stories.  Along with the trained, caring support provided by Story Starter volunteers, each child receives high-quality resources from Dolly Parton's Imagination Library so that they can enjoy the magic of stories at home.
Foundation Stage 1 news...
Yoga Stories
Hello Key Stage 1 and Foundation Stage!
We hope you are managing to keep yourselves busy while you're at home. In case you want a change of Yoga activity from Cosmic Kids here is a great set of Yoga Stories. Choose one and you can read the book as well as complete the Yoga poses:
---
Well Being Day
On Thursday 24th November, we celebrated 'Well Being Day'. Year groups carried out various activities throughout the day. Some of us had the opportunity to take part in peer massage- this was very relaxing! Others participated in Lego Therapy, which we loved! One class even had a karaoke session- this made us feel GREAT! Thank you Mrs Porter for our wonderful yoga session. It was a relaxing and lovely day at Mersey Park. We loved coming into school in our comfy slippers!
---
Comic Relief 2019
This year we wore odd socks for Comic Relief and all donated £1. We were even given the opportunity to enter a joke competition for 50p. All money raised was donated to charity. Take a look at some of our funky socks below:
---
Fitness Fun Friday in the Foundation Stage and KS1
We started the day off energetically with a wake up and shake up routine. Throughout the rest of the day we have enjoyed different physical activities to help us all keep fit whilst having fun at the same time. We moved our bodies to the beat of a lively song with the help of some of our favourite book characters. Back in our classrooms we have been feeling great and ready to learn with a positive mental attitude.
---
Children In Need 2018
What a wonderful day we had for Children In Need. All the children brought in £1 to wear something either spotty or yellow. The children also had the opportunity to buy a cake at playtime for 50p. The children also had the chance to pay 50p to enter a colouring competition. There were three winners across the school. Thank you everyone for your generous donations.
---
Harvest Costumes
We have made some fantastic harvest fruit and vegetable costumes in Foundation 1. Can you guess what we have dressed as?
---
Teddy Bear Picnic
We enjoyed a delicious picnic to celebrate the amazing time we have had in Foundation 1!
---
Vibrant Vocabulary Parade- Friday 22nd June
This exciting event is a fun way to celebrate our love of wonderful words and varied vocabulary. We are inviting you to come to school dressed as your chosen word with the word clearly displayed on your outfit. During the day we will have a parade, where you will have the chance to show off your costume and we will also take lots of photographs to display around our school.
Please choose a word from your year group's list below. You will notice that most of the words are very challenging. This event will be great fun but it is also a chance for you to hear and learn new vocabulary.
We can't wait to see you in your outfits. Good Luck!
---
A Right Royal Wedding
Foundation One had a super time getting dressed up and we had a street party to celebrate the Royal Wedding.
---
Cute Ducklings!
We really enjoyed being able to watch and cuddle the ducklings in school.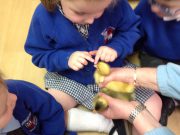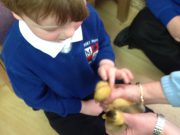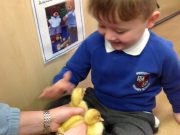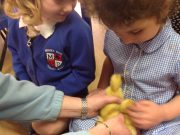 ---