Science
"The Science of today is the technology of tomorrow" – Edward Teller
Starting in Foundation, our children are given lots of opportunities to explore and investigate, through first hand exploration. We aim to develop lively, enquiring minds.  Science is taught through the areas of learning in accordance with the EYFS document and the National Curriculum for KS1 and KS2.
Science teaches an understanding of the world that we live in and aims to stimulate a child's curiosity to find out how and why things happen in the way they do. It teaches methods of enquiry and investigation to encourage creative thought. Children learn to ask scientific questions and are encouraged to engage in questioning and discussion about science-based issues which affect their lives, the society in which they live and the world as a whole.
The objectives of teaching science are to enable children to:
ask and answer scientific questions;
actively explore the environment;
plan and carry out scientific investigations;
know and understand the life processes of living things;
know and understand the physical processes of materials, electricity, light, sound, and natural forces;
know about the nature of the solar system, including the earth;
evaluate evidence, and present their conclusions clearly and accurately.
Teaching and learning
We use a variety of teaching and learning styles in science lessons. Our principal aim is to develop children's knowledge, skills, and understanding.
We encourage the children to ask, as well as answer, scientific questions in order to make sense of the world and develop their understanding of the scientific processes that are vital to all of our lives and to the future well-being and prosperity of the world we live in.
Children use ICT in science lessons to enhance their learning. They take part in role-play and discussions, and present information to the rest of the class. We encourage co-operation, sensitivity and tolerance of each other in a wide variety of problem-solving activities within the classroom. We encourage children to express their views and evaluate decisions about science related matters.
PLANNING
School curriculum
The programmes of study for science are set out year-by-year for Key Stages 1 and 2. We are however, only required to teach the relevant programme of study by the end of the key stage. Within each key stage, school has the flexibility to introduce content earlier or later than set out in the programme of study and may introduce key stage content during an earlier key stage if appropriate. Teachers will base their planning on the programmes of study for their relevant year groups, as set out in our Science Curriculum Overview.
Click below to view the progression of skills across the year groups for Computing and e-Safety: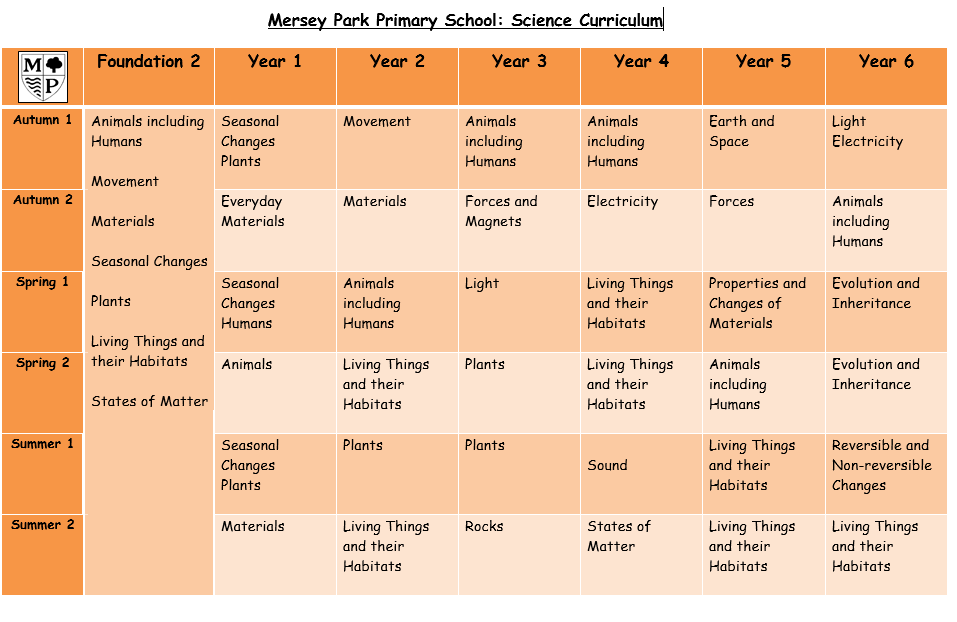 Click below to view the curriculum expectations across the year groups for Science:
Mersey Park Curriculum Expectations
British Science Week
As part of British Science Week all year groups undertook an adventurous investigation or exploration. Year groups then provided evidence of the sessions completed in a class journal. Have a browse at the galleries below to see some of the work completed:
FOUNDATION SUBJECT REPORT TO GOVERNORS – SPRING 2018 – SCIENCE :
Science Governors Report