PSHE & SMSC
At Mersey Park Primary School we aim to promote healthy, independent and responsible members of society. We encourage all our pupils to play a positive role in contributing to school life and the wider community through class & school councils, fundraising events, supporting nominated charities and involvement in community activities. Our pupils are given opportunities in PSHE lessons and assemblies to develop confidence, self-motivation and an understanding of their rights and responsibilities within our diverse society.
In previous years, the school has followed SEAL (Social and Emotional Aspects of Learning) and the Christopher Winter project (tackling primarily drugs and relationships), but has adopted a more mindful approach to PSHE, called Jigsaw.
Over the year, each Year group will be completing work on 'six puzzles' that fit together to make a 'Jigsaw'. They are:
Autumn 1            Being me in my world
Autumn 2            Celebrating differences including Anti-Bullying
Spring 1               Dreams and Goals
Spring 2               Healthy Me
Summer 1           Relationships
Summer 2           Changing me including Sex Ed
Jigsaw is also supportive of British Values and the Prevent agenda.
Every class has created their own 'Rights Respecting Schools' charter. The pupils voted on the four most important rights to themselves within the class, which then become the focus of their charter.
Every year group carries out a Diversity Day each year. Below is display of some of the children's work: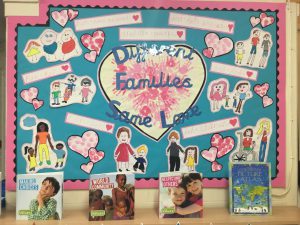 Every Year group has the opportunity to participate in regular P4C sessions, which are often Topic, Literacy or School Value based. P4C provides children the opportunity to express their own opinions in a safe, supportive and confidential environment.
Every class keeps an SMSC evidence class book that is updated with work and activities relating to these areas. They also refer to the concept of the 20th Kid and Mersey Park (Growth) Mind-set.